Thousands enjoy Comet Festival return
THOUSANDS of people descended on Port Glasgow for the return of the Comet Festival at the weekend.
The event was back for the first time in three years on Saturday 25 June 2022 after an enforced break because of the coronavirus pandemic at the town's Coronation Park, which was bathed in sunshine for most of the day as huge crowds turned out to enjoy the various stalls, funfair, inflatables, live music, dancing, birds of prey, and food and drink tents.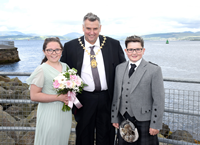 Proceedings got underway late morning with the traditional parade through the town centre en route to the park featuring the new gala king and queen Cameron McQuade and Hayley Johnstone, who are both 12 and attend St Stephen's High School.
Provost Drew McKenzie, who opened the festival, said: "Absence makes the heart grow fonder and I was delighted to welcome back the Comet Festival to Coronation Park for the first time since 2019 and it was well supported by the people of Port Glasgow and wider Inverclyde.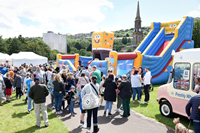 "It was a thoroughly enjoyable day out and the weather was certainly on our side in the afternoon with warm and sunny spells as the many visitors enjoyed the various attractions and welcomed our new gala king and queen Cameron and Hayley who were a credit to themselves, their families, school and the town.
"The festival ran smoothly from start to finish and I'd like to congratulate the organising committee, supported by council officers, on a job very well done and I look forward to the event in 2023."
The event was organised by the Comet Festival Committee with support from Inverclyde Council through the Meliora Festival Community Fund.
On Sunday, runners took to the streets for the Port Glasgow 10k road race.
The festival and 10k were the latest in a series of events that have taken place across Inverclyde during May and June as part of the council's Meliora Festival, including the opening of Gourock Outdoor Pool, Gourock Highland Games, British Pipe Band Championships, Scotland v England girls' anniversary football match, and Inverclyde Warrior 5k obstacle course.