Audience back for schools' spring concert
YOUNG musicians from across Inverclyde are tuning up for an annual spring concert in front of a live audience for the first time in two years.
Performers from local schools will put on a show at Greenock Town Hall on Thursday 31 March 2022 starting at 7pm.
It will be the first time in two years that the musicians will play in front of a live audience because of Covid-19 restrictions.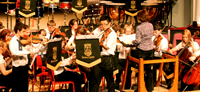 The spring event is one of two annual concerts put on by the Inverclyde Council's music service with the other taking place at Christmas.
Last year's festive performance was held behind closed doors but was filmed and streamed online.
Tickets are on sale now for the 2022 spring showcase later this month which will feature performances by:
Junior String Orchestra
Senior String Orchestra
Junior Wind Orchestra
Senior Wind Orchestra
Junior Choir
Senior Choir
Piping Group
Tickets for the Inverclyde Schools' Gala Concert cost £6 for adults or £3 for children and OAPs.
They are available from the Beacon Arts Centre box office online at www.beaconartscentre.co.uk or by calling 01475 723723.