Congratulations to Dunfermline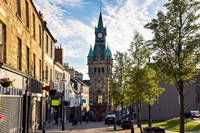 Inverclyde Council Leader has sent congratulations to Scotland's newest and eighth city, Dunfermline.
It follows the announcement that it has been awarded the title of 'city' as part of the Platinum Jubilee Civic Honours Competition.
Dunfermline joins new cities in England, Wales, Northern Ireland, the Isle of Man and the Falkland Islands.
The competition drew entries from 38 places all over the Commonwealth including from the town of Greenock.
The eight winning places, announced today, are
Bangor, Northern Ireland
Colchester, England
Doncaster, England
Douglas, Isle of Man
Dunfermline, Scotland
Milton Keynes, England
Stanley, Falkland Islands
Wrexham, Wales
Inverclyde Council Leader Councillor Stephen McCabe said: "Congratulations to Dunfermline in becoming Scotland's eighth city. While it is natural for us to be disappointed that Greenock hasn't been granted city status in this competition to mark the Platinum Jubilee it is good that Inverclyde's largest town has been in the running for this prestigious honour. The last council voted unanimously to support a bid which showed ambition for the future of Greenock. As a new council is formed to deliver services over the next five years the challenge is to keep working together to maintain that ambitious collective drive moving forward. Doing that and facing the undoubted challenges head on we can make sure that if Greenock can't be a city this time it will continue to be one of Scotland's great towns."