Countdown to Scotland v England anniversary match
THE countdown is on for a special football match between Scotland and England girls' teams to mark the 50th anniversary of the pioneers of the women's game in Inverclyde this weekend.
The Under-15s sides will play at Ravenscraig Stadium, Greenock, on Sunday (15 May 2022) at noon following in the footsteps of the women who in 1972 took part in the first official international between the two countries following the lifting of the ban on women's football at the same venue.
The fixture is being organised by Inverclyde Council in partnership with the Scottish Schools' Football Association and with support from the English Schools' Football Association.
Ahead of the special anniversary match, current Scotland U15s players Sophie Black, Mia Scott, Millie Paton and captain Kate Fraser visited Ravenscraig along with Robert Allan, President of the Scottish Schools' Football Association.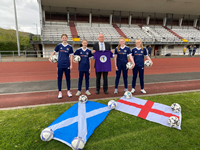 Skipper Kate, who plays for Hamilton Accies and attends Strathaven Academy, said: "It's a privilege to be part of such a momentous occasion.
"The years in which women's football was effectively banned sadly set the women's game back but I am excited to be involved at a time when it's getting more investment and better exposure.
"We feel honoured that some of the players from the 1972 match are coming to watch us play.
"We know that the result didn't go in Scotland's favour 50 years ago so we are hoping to get a win this time."
It is a particularly special honour for full-back Millie Paton as she also lives in Inverclyde.
The Clydeview Academy pupil, who plays for Rangers, said: "I'm absolutely buzzing to be taking part in this anniversary game on Sunday. To represent Scotland at any level is a huge honour but to be doing it at an anniversary match like this especially where it all began and so close to home for me is everything.

"It's looking like we are going to get some crowd at the game bigger than I have ever played in front of before so I am quite nervous but I know when I walk out with the Scotland top on all those nerves will hopefully disappear.

"It's all thanks to the women who played here 50 years ago that I can play the game I love not just this Sunday but every day. So I hope that we can go and win this for not just our friends and families but also the players of the 1972 team."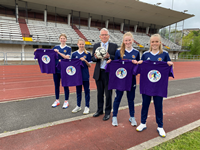 Teammate Mia Scott, who attends William Wood High School and plays for Glasgow City FC, said: "It's an honour to play in such a match marking such an important milestone.
"It is great to see more women and girls getting involved and to see the growth of the sport.
"I'm super excited for the game. The nerves haven't kicked in yet but I'm sure they will. I can't wait."
Fellow Glasgow City and national team colleague Sophie Black, who is a pupil at Mearns Castle High School, added: "I'm really looking forward to the game against England.
"It is such a special occasion making the 50th anniversary of that famous women's football game between Scotland and England after the ban was lifted.
"The fact it is in the same stadium is amazing. At least we won't have to travel there in the back of a furniture lorry.
"I'm so grateful to have the opportunity to be part of this exciting day."
Tickets for Sunday's match are on now on sale at £5 per adult ticket with up to two under-16s included in the ticket price. Please note no under-16s are allowed entry without an adult.
Gates will open at 11am.
Tickets for the match, which kicks off at 12 noon, are available to buy online at www.discoverinverclyde.com/meliora-festival or in store from Smiths of Greenock, West Blackhall Street, Greenock.