Success at first British Pipe Band Championships in three years
THE first British Pipe Band Championships in almost three years has been hailed a huge success after the event was held in Inverclyde.
The showpiece – the first major of the season – took place at Battery Park on Saturday 21 May 2022 with thousands in attendance.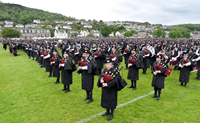 Over 105 bands entered, including from America, Canada, Ireland, England and across Scotland.
Despite the rain earlier in the day, visitors enjoyed top class performances, Highland dancing, a variety of stalls and food as they enjoyed a day out at the free event on the banks of the River Clyde organised by Inverclyde Council in partnership with the Royal Scottish Pipe Band Association (RSPBA).
Chieftain of the games and former Inverclyde provost, Ciano Rebecchi, said: "Forget the weather, everything was great and went very well. The bands, Highland dancers – everything was great.
"The competitors enjoyed it and the rest of the people there enjoyed it too.
"We had bands from America, Ireland, England and Scotland and that speaks for itself.
"Battery Park was superb, the grass was great and the views are tremendous.
"We couldn't have asked for more and hopefully it brings more people into the area."
The games followed hot on the heels of the successful Gourock Highland Games a fortnight earlier and were part of Inverclyde Council's Meliora Festival of events throughout May and June.
Ian Embelton, chief executive of the Royal Scottish Pipe Band Association, said: "It was a very good day and all went well.
"The bands had a fantastic time at what was the first major championships they have had for nearly three years. They loved every minute of it.
"The whole event ran like clockwork.
"Yes the weather wasn't the best – we live in Scotland after all – but the bands weren't bothered and we had a dry afternoon.
"We had 105 bands entered. The turnout far exceeded our expectations to get over 100 bands.

"It was an outstanding success."
First place in each of the pipe band contests are as follows:
Grade 1 – Inveraray and District
Grade 2 – Buchan Peterson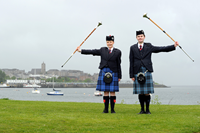 Grade 3A – Vale of Atholl
Grade 3B – Major Sinclair Memorial
Grade Juvenile – Dollar Academy
Grade 4A – Lower Clyde Pipes and Drums
Grade 4B – Kilbarchan Pipe Band
Grade Novice Juvenile A – Dollar Academy
Grade Novice Juvenile B – High School of Dundee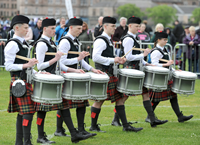 Adult Drum Major heats – Kara Gilmour, Police Scotland and Federation
Adult Drum Major final – James Kennedy – Closkelt
Juvenile Drum Major – Louis Anderson, New Ross and District, Eire
Junior Drum Major – Carys Graham, The Glasgow Skye Association
For the full results, visit the RSPBA website at www.rspba.org.
To find out more about what Inverclyde has to offer, including events coming up as part of the Meliora Festival, visit www.discoverinverclyde.com.