Thousands attend Gourock Highland Games return
GOUROCK Highland Games were back with a bang at the weekend with thousands of visitors basking in glorious sunshine for the start of the Scottish season.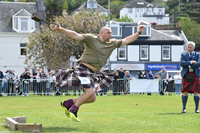 The free event, which was curtailed for two years because of the Covid-19 pandemic, returned to a sun-kissed Battery Park on Sunday 8 May 2022 with large crowds of spectators enjoying traditional heavy competitions, dancing, piping and music, as well as a variety of stalls and food stands throughout the day.
Among the competitions were the mini-Highland Games for local school children organised by the council's active schools/sports development service which saw Gourock Primary take first place with St Mary's Primary in second and King's Oak and Ardgowan primaries sharing third spot.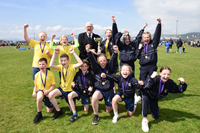 Estimates suggest the attendance at Battery Park was close to pre-pandemic levels of around 10,000.
George McLeary, chieftain of the games, said: "The Gourock Highland Games were sorely missed over the last couple of years so what a way to bounce back with huge crowds throughout the day enjoying top-class entertainment in glorious sunshine.
"It was a great honour for me to be chieftain and I have memories I will cherish forever.
"A huge well done to all the competitors, dancers, pipers and musicians who took part, as well as the many retailers and businesses who were there on the day showcasing what Inverclyde has to offer and to the council and its partners for putting on this wonderful local event."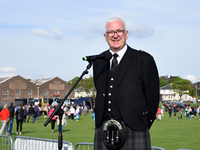 The Gourock Games, organised by Inverclyde Council, were the first in a series of events as part of the local authority's Meliora Festival during May and June.
Next up is a match between Scotland and England Under-15 girls' teams at Ravenscraig Stadium this Sunday (15 May 2022) at noon to mark the 50th anniversary of the first official international between the countries' senior sides after the lifting of the ban on women's football in 1972.
That will be followed by the British Pipe Band Championships – the first major of the season – also at Battery Park and with free entry on Saturday 21 May 2022 from 10am-6pm.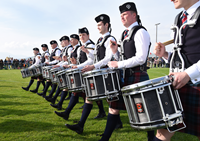 The festival will also see the Inverclyde Warrior 5k obstacle course organised by Inverclyde Leisure at the same location on 11 June, with an event exclusively for local school children the day before, and an arts extravaganza led by the Beacon Arts Centre featuring exclusive performances by comedians Elaine C Smith, Ed Byrne and a giant inflatable sculpture – Luminarium – at the Greenock venue throughout June.
A series of community events, including celebrations to mark the Queen's platinum jubilee, are also scheduled thanks to £120,000 of support from the council's Meliora Festival community fund.
For more information about Meliora Festival, visit www.discoverinverclyde.com/meliora-festival or click on the link in the 'Other Websites' section of this page.