Access reusable sanitary products for free
REUSABLE sanitary products will be available for free at several 'pop-up' shops opening in Inverclyde.
Inverclyde Council staff will be on hand at local libraries to provide samples to anyone who needs them.
There will be pop-up shops at the Greenock Central, pictured below, South West, Port Glasgow and Gourock branches as part of the local authority's ongoing promotion of free sanitary products and reusable items.
Earlier this year Scotland became the first country in the world to make period products free for all by law.
In Inverclyde, the council has been providing sanitary products in schools since 2018 before the initiative was rolled out to more venues and made available to order online for home delivery, all at no cost to those who need them.
Over the last six months alone, there has been 760 online orders placed by the public through the online ordering service and there are now 128 venues with accessible supplies.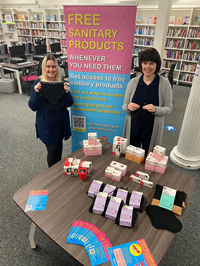 Councillor Natasha McGuire, depute leader of Inverclyde Council and vice-convener of communities, said: "As a council, we've really been at the forefront of making sanitary products free for those who need them and long may that continue, particularly in these challenging financial times with so many people struggling with the cost of living crisis.
"It's wonderful that there is an online ordering system and nearly 130 local venues with stocks of supplies to make it as easy as possible for our residents to access period products as and when they need them.
"The pop-up shops in our libraries is another great idea by the council's health and wellbeing service to try and reach even more people.
"This initiative provides more options for how people manage their periods and it's great to have more sustainable product options available that will widen the range of free products on offer with the aim of increasing accessibility, reducing stigma and ensuring period dignity for all."
Free, reusable sanitary products will be available from pop-up shops at the following locations:
Greenock Central - Tuesday 22 November 2022 from 12-2pm
Port Glasgow - Friday 25 November 2022 from 12-2pm
Gourock - Tuesday 29 November from 12-2pm
Greenock South West - Friday 2 December 2022 from 12-2pm
Councillor Lynne Quinn, Inverclyde's women's champion, said: "Sanitary products can be very costly and create an additional and unnecessary financial burden for many families – something they can ill-afford in these trying times when many households are having to choose between things like heating and eating.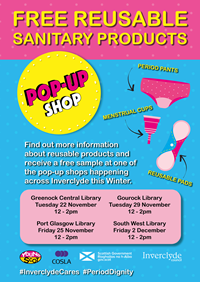 "I'm proud that as a council we have embraced the free period products initiative right from the very beginning and worked hard to ensure as many people as possible can access products as and when they need them.
"These pop-up shops in local libraries is another great addition to the existing offering but with an important emphasis on reusable products and all the financial and environmental benefits that comes with that and I would encourage as many people as possible to drop in, find out more from our knowledgeable staff and pick up free samples."
Over the last six months, the council has distributed 3,894 disposable products and 1,503 reusable products.
There are 128 venues across Inverclyde which have been given a stock of free period products, including 28 schools, libraries, community centres, leisure facilities, GP surgeries, youth centres and the two zero waste food pantries in Grieve Road, Greenock, and John Wood Street, Port Glasgow.
Within each of these venues there should be a range of panty liners, sanitary pads and tampons available with some venues providing items for both bulk and individual use.
Provision of free sanitary products is funded by the Scottish Government in partnership with COSLA and Young Scot.
For more information visit www.inverclyde.gov.uk/period-products.