Armistice Day
Today is Armistice Day, 11 November.
It marks the end of the First World War in 1918. At the 11th hour of the 11th day on the 11th month people across the UK will fall silent to commemorate and remember those who lost their lives fighting fin conflict.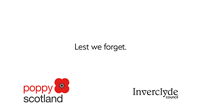 There will be a national two-minute silence at 11am.
Inverclyde's Remembrance Sunday services take place this weekend.
Find out more details of your nearest service via the link in the 'Related Links' section of this page.
To support Poppyscotland, visit www.poppyscotland.org.uk or click on the link in the 'Other Websites' section of this page.