Council supports campaign to end gender-based violence
AN international campaign to end gender-based violence is being backed by Inverclyde Council.
The local authority is once again supporting the annual '16 Days of Activism' drive that runs from today, Friday 25 November 2022, until 10 December.
The international theme for the worldwide campaign this year is 'UNITE! Activism to end violence against women and girls' and calls for global actions to increase awareness, galvanise advocacy efforts, and share knowledge and innovations.
Each year, the 16 Days of Activism against Gender-Based Violence begins on 25 November, which is International Day for the Elimination of Violence Against Women, and finishes on 10 December, Human Rights Day.
The campaign is symbolised by a white ribbon and anyone who has one is encouraged to wear it to show their support.
Throughout the 16 Days, the council will be highlighting key themes on social media and signposting anyone affected to help and advice.
Councillor Lynne Quinn, Inverclyde Council's women's champion, said: "This is an important annual campaign that we all must do our bit to support.
"It has taken on greater significance because the Covid-19 pandemic has unfortunately increased the risk of violence against women and children. Similarly, the cost of living crisis will disproportionately impact women experiencing violence.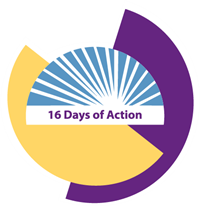 "We need to embed tackling violence against women and girls in our recovery and renewal planning and this campaign will help to raise awareness of that and let anyone out there who is suffering know that they are not alone and help is available."
According to UN Women, one in three women experience physical or sexual violence, mostly by an intimate partner.
In 2020/21, Police Scotland recorded 65,251 incidents of domestic abuse, an increase of four per cent on the previous year, with four out of five cases involving a female victim and male accused.
Over 90 per cent of domestic abuse incidents occurred at home.
Councillor Stephen McCabe, leader of Inverclyde Council, said: "It's heartbreaking that women and girls are still being subjected to violence, abuse and coercive behaviour.
"Staff across the council and health and social care partnership (HSCP) work tirelessly alongside partner agencies to eliminate the problem locally but we all have a duty of care to our fellow citizens and must do our part to report anything untoward to ensure that that those affected are identified and supported as early as possible.
"This campaign also highlights other important associated issues such as the improving gender balance in the workplace and while we have made great strides locally, particularly within the council, we cannot and will not rest on our laurels and will always strive to do more."
The first 'white ribbon campaign' was launched in 1991 by a group of Canadian men opposing men's violence against women, following the mass murder of 14 female students at the University of Montreal on 6 December 1989 by a gunman opposing feminism.
International Day for the Elimination of Violence Against Women originated in memory of three women and political activists – the Mirabel sisters – who were killed in the Dominican Republic on 25 November 1960 for their involvement in attempts to overthrow the fascist government at the time.
Inverclyde Council has a dedicated support page on its website for anyone affected by violence to get the help they need at www.inverclyde.gov.uk/violenceagainstwomen.