Garden waste brown bin collections extended
BROWN bin garden waste collections in Inverclyde have been extended.
Members of the council's environment and regeneration committee have agreed with proposals from officers to continue the service through until December 2022 to make up for uplifts that were not carried out earlier this year due to strike action.
Brown bin collections usually run from mid-March until the second week in November annually for residents who have purchased a garden waste permit.
But some customers missed out on one or two collections because of industrial action in August.
An extension has now been agreed for the 2022 season only to make up for the lost uplifts and will mean the final collections of the year will be as follows:
Week 1 – week commencing 5 December 2022
Week 2 – week commencing 12 December 2022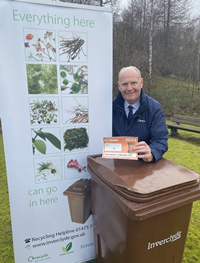 Councillor Michael McCormick, Inverclyde Council's convener of environment and regeneration, said: "We understand that some customers were disappointed that their brown bins were not collected in August due to strike action and we were keen to make up for that in some way.
"An extension of collections until December seems a logical idea to ensure customers receive a full service.
"With the leaves continuing to fall and temperatures milder for this time of year, I'm sure this extension will be of use to many of our green-fingered service users at this time and make up for the lost uplifts in the summer."
Customers receive 18 collections annually on the same fortnightly schedule as their blue bins.
Due to the strike action from 24-31 August no brown bins were collected.
The strike recovery plan further paused brown bin collections for the week following the strike.
It meant customers on the week 1 phase missed one collection and those on week 2 missed two collections.
Residents who wish to use the brown bin uplift service must purchase a garden waste permit each year.
For more information about the garden waste collection service, visit www.inverclyde.gov.uk/garden-waste.