Inverclyde teacher wins national award
A TEACHER at an Inverclyde Council school has won a top national award for her anti-racism campaigning.
Catherine 'Katie' D'Souza, who works at Newark Primary in Port Glasgow, has been named the joint winner of this year's General Teaching Council for Scotland (GTC Scotland) Saroj Lal Award for a Pioneering Spirit in Equality and Diversity alongside Carrie McWilliam, who is a teacher in Aberlour.
The award celebrates the work of teachers who actively challenge discrimination, demonstrating a pioneering spirit and determination, in a bid to promote and facilitate a culture and ethos of equality and diversity.
The award is in honour of Saroj Lal, a trailblazer working at the forefront of multicultural and anti-racist education in its early years and laying the foundations for many others to build on.
Katie's pupil voice Anti-Racism group campaigned for equality and diversity creating anti-racism posters to be displayed around their school and community and also visited local businesses to share their learning and promote their anti-racist message.
The Newark teacher is also involved with Inverclyde Council's inclusive education team and is supporting work to deliver learning on the area's historical links to the transatlantic slave trade to all S2 learners this year.
In addition, Katie joined a Building Racial Literacy programme offered by Education Scotland and used this professional learning to inspire colleagues to make small but impactful changes to their inclusive practice.
As a mixed-race child growing up in a village in Scotland in the 1980s, Katie says she has always been very aware of the impact of racism in our communities and schools.
Katie said: "When I embarked upon my career in teaching, I found that the issues I had encountered as a learner were sadly still embedded in practice in our schools and I felt strongly that I had a duty to try to address this in my own classroom and beyond.
"I am acutely aware that I am just one small part of a large and growing collective of like-minded individuals who are working hard every day in their classrooms and communities to change hearts and minds one child, one class, one staffroom, one community at a time, working towards true equality and diversity in education. My achievements are no more special than theirs, so I proudly accept this award on behalf of all of us.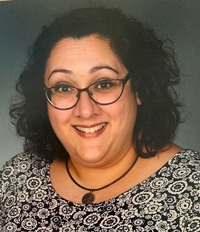 "I am inspired daily by the tremendous young people, families and staff team of Newark Primary, who support me every step of the way and I am guided and inspired by the work of Mélina Valdelièvre and the team at Education Scotland, WOSDEC and my Building Racial Literacy Cohort 1 friends."
Katie and fellow award winner Carrie have been recognised for being 'pioneers for their schools and local communities'.
Councillor Jim Clocherty, Inverclyde Council's convener of education and communities, said: "This is fantastic recognition not just for the excellent work Katie has done in Newark Primary but in schools right across Inverclyde, the council as an education authority, and beyond.
"Inverclyde has a proud reputation of being a welcoming and inclusive place for people of all backgrounds but we must never rest on our laurels and realise that we can all do more and also learn from the past.
"That learning should start at an early age and that's why the hard work and determination of Katie and our education staff is so vital to educate our young people to ensure Inverclyde continues to be a caring, compassionate and inclusive place for everyone."
Among the award panel who helped choose the winners is Vineet Lal, son of Saroj Lal.
Vineet said: "The GTC Scotland Saroj Lal Award recognises outstanding endeavour by educators in the field of equality and diversity – those who have gone above and beyond in their efforts to champion these core values through their work.
"The joint winners of the 2022 award exemplify those principles magnificently: in Katie and Carrie we have two remarkable women who, in their own different yet complementary ways, have chosen to challenge established norms, to forge new paths and break new ground. Just like Saroj, who began her pioneering journey half a century ago, this year's winners are true trailblazers and are an inspiration to their pupils, peers and communities."
Dr Pauline Stephen, Chief Executive and Registrar, GTC Scotland said: "The teaching profession in Scotland sets high standards for itself. This is reflected in their values of social justice, trust and respect, and integrity. These values speak to the aspiration of the profession for an inclusive world.
"Our schools and learning communities are enriched with a diverse mix of people with different experiences and from different cultures and backgrounds, from the children and young people, to the teachers who work with them.
"Winners of the Saroj Lal Award are inspirational in their work to promote equality and diversity. As they lead, they are moving the profession, and society, closer to realising this aspiration."
Professor Rowena Arshad CBE, FEIS, Chair in Multicultural and Anti-Racist Education, University of Edinburgh and award panellist, said: "The Saroj Lal award recognises those who are prepared to step out of their comfort zone to make a difference in the area of equality and anti-discrimination. It is really exciting that in 2022, this award goes to two teachers. Both these teachers work in very different contexts: one in primary (urban) and the other in secondary (rural). However, both recognised the need to use the formal curriculum to provide opportunities for young people to confront stereotypes, to challenge prejudice and to be comfortable with diversity. I hope receiving this award spurs them to continue to be teachers that dare to make a difference."
Notes for Editors:
The Life and Work of Saroj Lal
Saroj Lal was a trailblazing teacher and campaigner in Scottish race relations. Born and educated in India, she migrated to the UK in the late 1960s. Saroj taught at Edinburgh's South Morningside Primary School for three years and was among the earliest Asian primary school teachers in Scotland. She was known for wearing her colourful saris, red lipstick, and being fundamentally proud of her heritage.
Her BAME background and experience as a schoolteacher were central to her later work in multi-culturalism and anti-racist education. She would challenge perceptions throughout her career at the Young Women's Christian Association (YWCA) and Lothian Race Equality Council, fighting for equal representation of minority ethnic communities in the classroom, children's literature and the media. She championed the BAME cause, setting up Edinburgh's first dedicated ethnic library, developing minority arts and expanding mother tongue teaching citywide.
Education and women's rights remained a priority: she encouraged girls to pursue higher education by creating the Asian Cultural Girls' Club at Drummond High School and the Continuation Course at Telford College. She also broke new ground with Lothian and Borders Police, defining the nature of racial attacks and encouraging the monitoring of racist bullying in schools. She became the first Asian woman in Scotland to be appointed as a Justice of the Peace.
Her pioneering achievements remain an inspiration to many and she leaves a lasting legacy in Edinburgh.
In 2021, the inaugural Saroj Lal Award for a Pioneering Spirit in Equality and Diversity was awarded to Theo Ogbhemhe.
Equality and Diversity are key cross-cutting themes of the Professional Standards. Teachers can develop their professional knowledge and understanding of equality and diversity by reading GTC Scotland's Professional Guide, taking Professional Learning modules and engaging with resources on the GTC Scotland website.
This award is separate from the Saroj Lal Awards for City of Edinburgh Schools, which honours Saroj's legacy in Edinburgh.