Warm welcome for £100k winter support scheme
A WARM welcome is being given to a £100,000 Inverclyde Council initiative to help residents tackle the cold this winter amid the cost of living crisis.
To coincide with the start of Challenge Poverty Week, the local authority has today, Monday 3 October 2022, launched its 'warm hand of friendship' scheme which is designed to ensure that spaces, resources, advice and support are available throughout the area as temperatures plummet and prices rise.
A key element of the initiative will be one-off grants of up to £3,000 for voluntary and community organisations to create a network of warm spaces, activities and support this winter.
Funding will be administered and monitored by CVS Inverclyde.
The warm hand of friendship scheme will also include a warm spaces and activities map, financial support leaflet, and 'warm boxes' containing items to help the most vulnerable in society.
Councillor Stephen McCabe, leader of Inverclyde Council and welfare and financial inclusion champion, said: "People are rightly worried about the perfect storm of rising costs and falling temperatures we are facing this winter and how they are going to cope.
"Our warm hand of friendship scheme is designed to provide practical support for our communities by signposting to spaces, activities and assistance that will help those who need it.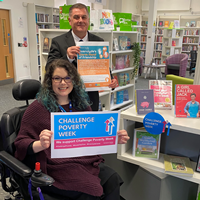 "It's apt that we launch this initiative at the start of Challenge Poverty Week to highlight some of the many things we, as a council, are doing to support the most vulnerable in society alongside partners such as CVS Inverclyde.
"This winter is going to be extremely difficult for many people but by working together and supporting each other like we did during the pandemic we can get through this and show once again that Inverclyde cares."
A total of £90k will be available via the grants scheme, which is now open for applications.
Charlene Elliott, CVS Inverclyde CEO, said: "CVS Inverclyde is proud to administer this fund on behalf of Inverclyde Council. Charities and voluntary organisations are at the heart of our communities and they will be able to reach the most vulnerable people to offer support during this really difficult time.
"During the pandemic, Inverclyde's charities and voluntary groups were immediately on the frontline helping those most in need; they're now responding to this new challenge with the same determination.
"Third sector organisations are also facing a huge rise in bills and running costs. I would urge anyone who is able to support charities and voluntary groups in our communities whether this is donating, fundraising or volunteering. We need to help the helpers."
The warm spaces and activities map will direct people to places, such as local libraries and the Watt Institution, where people can stay warm while taking part in events and meeting people in a safe environment.
A financial support leaflet is also being produced and plans are being finalised for 'warm boxes' to be distributed by Inverclyde Health and Social Care Partnership (HSCP) staff containing items and goods to support the most vulnerable in society during winter.
The warm boxes initiative is subject to a request for £30k of funding from the Inverclyde Integrated Joint Board (IJB), which is the organisation that oversees local health and social care functions carried out by the council and HSCP.
For more information about Inverclyde's warm hand of friendship, including how to apply for a grant and access support, visit www.inverclyde.gov.uk/warmspaces.