£30k underpass improvement works
UNDERPASSES in Greenock Town Centre are coming out the other end thanks to over £30,000 worth of improvements.
The pedestrian tunnel at West Stewart Street is the first to have been given some attention by Inverclyde Council thanks to a grant from Riverside Inverclyde (RI).
New decorative panels have been installed with more improvements being looked at to tidy up the area.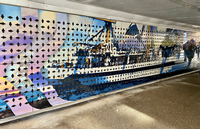 Work is also being planned for the Bullring Roundabout and Regent Street underpasses.
The aim is to improve the appearance of the pedestrian tunnels to make them more appealing and welcoming for residents and visitors.
Councillor Michael McCormick, Inverclyde Council's convener of environment and regeneration, said: "There is a large amount of footfall through these underpasses and they are the gateway to Greenock Town Centre so it's important that they are kept in good condition and are welcoming for locals and visitors alike.
"It's disappointing that a small minority don't share that view and have damaged or defaced theses underpasses in recent times which means repairs are required but I'm glad they will now be given some much-needed TLC.
"The West Stewart Street underpass is now looking much better than it was and I look forward to seeing further improvements here and at the Bullring Roundabout and Regent Street walkways in the near future as part of the ongoing regeneration of Greenock Town Centre."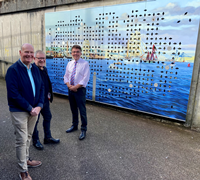 Replacement of some of the West Stewart Street panels was completed recently with £9k being spent on that underpass alone and additional works in the pipeline.
The overall budget to refresh all the town centre underpasses is £31k as part of a regeneration programme being funded by RI.
Gavin McDonagh, chairman of RI, said: "We are delighted with the outcome of this underpass project.
"This is part of a number of local projects and employment programs funded by RI carried out in partnership with Inverclyde Council all for the benefit of the local community."
The overall aim of the project is to make the pedestrian tunnels more appealing and will include work on the two Bullring Roundabout underpasses and the Regent Street walkway.
Minor concrete repairs and jet washing are also planned at West Stewart Street and Regent Street.