Pakistan floods appeal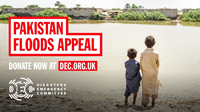 Millions of people need urgent help in Pakistan. Devastating floods have killed over a thousand people and left more than 6 million in desperate need, with conditions expected to worsen as rains continue.
The floods have destroyed and badly damaged more than a million homes , sweeping away entire villages, livelihoods, crops, schools and roads. With a third of the country estimated to be under water - an area the size of the UK - people urgently need food, clean drinking water and shelter.
DEC charities are working directly or through local partners to help save lives, providing food, temporary shelter, medical aid, clean water and sanitation but funds are urgently needed to reach more people.
The UK Government will match pound-for-pound up to £5 million donated by the public to this appeal. Your donation could help save lives.
£10 could provide vital hygiene supplies for two people

£50 could provide emergency shelter for two families

£100 could provide food for two families for a month