Parking buddies give friendly road safety advice
PARKING buddies are providing friendly road safety advice outside every Inverclyde primary school thanks to a new initiative from the council and local police.
The eye-catching characters appeared for the start of the new term to encourage people to 'think before you park' in and around the area's primaries.
They can also act as a physical barrier to prevent inconsiderate parking in prohibited places such as bus stops and outside main entrances.
Parking buddies have been delivered to each of Inverclyde's 20 primary schools as part of a joint-initiative between the council and local police.
The road safety initiative was launched at All Saints Primary in Greenock with the help of pupils, staff, Councillor David Wilson, convener of Inverclyde Council's local police and fire scrutiny panel, and PCs Lynda Quigley and Daniel Stewart, from Greenock Police Station.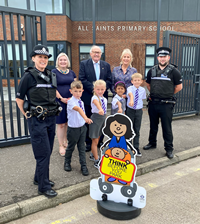 Councillor Wilson said: "As a council we work closely with our police partners across a wide range of areas and this is one of the more fun initiatives but with a serious message which is to remind people of the importance of parking legally and considerately, especially in and around our schools where there are so many young people and families coming and going.
"Schools are naturally busy environments and our young people and their parents and carers understandably want to get in and out as quickly as possible at drop-off and pick-up times to avoid traffic and get to work or back home. Inappropriate parking not only adds causes congestion but is also dangerous for families and other road users so I echo the call of our parking buddies and urge people to 'think before you park'."
Sergeant Laura Stewart, from the Inverclyde neighbourhood policing team, said: "Every year across Inverclyde, we receive numerous reports of inconsiderate and careless driving around our local schools.
"The safety of our young people is of paramount importance to us and we are very pleased to support the use of parking buddies to help promote safe driving and parking around Inverclyde schools."
Lesley McCabe, head teacher of All Saints Primary, said: "I am delighted that we now have our parking buddy here at All Saints.
"Road safety is a priority at all times and I am aware of current issues that we have with parking in the school car park and the bus bay at the entrance to the school.
"The parking buddy is a visual reminder to our parents and the local community of how important it is to keep our children safe.
"We encourage our parents to park at the 'park and stride' facilities on Blairmore Road or to park a little further away and walk the rest of the way to the school.
"The children will be prompted at assembly to remind their parents to park safely and through their health and wellbeing lessons children will be taught the importance of road safety."