Pitch perfect as £385k upgrades begin
A WELL-USED sports facility in Greenock will soon look pitch perfect once again thanks to a £385,000 upgrade.
Work has started on the replacement of the 3G surface at Battery Park thanks to investment from Inverclyde Council and a grant from a Scottish FA fund, established through financial support from the UK Government's Department for Culture, Media and Sport (DCMS), supported by Morton in the Community.
The site, managed by Inverclyde Leisure, is popular for a variety of sports, including football and rugby, and the new pitch will be to the standard of world football governing body FIFA once completed.
Councillor Jim Clocherty, Inverclyde Council's convener of education and communities, said: "We have top class leisure facilities in Inverclyde but it's important we maintain them and ensure they remain of the highest standard.
"The Battery Park 3G pitch is very popular among all age ranges and for a variety of sports so it's great that we have secured this additional funding from via the SFA and Morton in the Community to add to the council's investment to deliver what will be a gold-standard, FIFA quality surface for the benefit of the whole of Inverclyde."
Work started in August and is expected to be completed by October.
Councillor Sandra Reynolds, Inverclyde's sports and healthy lifestyles champion, said: "Sport and physical activity is hugely beneficial for physical and mental health so a huge investment like this to improve one of our key outdoor facilities can only help encourage more individuals, teams and clubs across Inverclyde to make best use of them and the benefits that come with that.
"This project is a great example of partnership working between the council and a variety of local and national partners to improve our existing offering and ensure Inverclyde continues to have some of the best sport and leisure facilities in the country."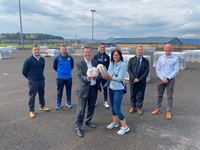 The £150k grant towards the overall cost of the project has been secured from the Scottish FA's Grassroots Pitch & Facilities Fund, which was established thanks to a significant investment from the Department for Digital, Culture, Media and Sport (DCMS) that formed a key part of the UK Government's wider 'Levelling Up' programme.
Cammy Watt, Scottish FA football facilities manager, said: "We were delighted to support the 3G replacement project at Battery Park, Greenock. It is a key facility for football development in Inverclyde, supporting significant levels of activity across the pathway prior to its replacement, and now, following the installation of the new 3G surface, as the 'hub' facility to be used by local Scottish FA Quality Mark anchor organisation, Greenock Morton Community Trust.
"Identifying community-focused football clubs as the 'anchor' club at their local sports facilities and then working with them and their local authority and leisure trust partners to improve these facilities is a vital element in the Scottish FA's 'Power Of Football' strategic plan. This investment ensures the longer-term sustainability of a high quality 3G facility for a number of years to come, allowing GMCT to develop even further, both on and off the pitch. We're just delighted to have played our part in that."
Brian McLaughlin, chief executive of Morton in the Community, said: "We're delighted to be part of this project and to have helped secure such a huge amount of funding to replace the 3G pitch here at Battery Park, which is so well used by our youth teams and for events like the school holiday training camps.
"This also gives us an opportunity to establish more of a base for our community teams and aid the growth and success of youth football, including the increasing popularity and participation in girls' and women's football."
David McCorkindale, head of leisure and community for Inverclyde Leisure, said: "We manage so many pitches throughout Inverclyde on behalf of the council and we're thankful for the continued investment in our sports and leisure facilities.
"Once finished we will have here a FIFA standard, world-class pitch for the whole of Inverclyde that will hopefully lead to increased usage, particularly among our children and young people."
To find out about pitch hire and other community facilities, visit www.inverclydeleisure.com, email bookingoffice@inverclydeleisure.com or call the booking office on 01475 213131.