Cash in on ATM help
INVERCLYDE residents are being encouraged to 'cash in' on help accessing money through ATMs.
A report to the council's policy and resources committee highlighted the number of automated teller machines (ATMs), or cash machines, available throughout the area following a request at a previous meeting.
Data from ATM provider LINK UK showed that there are 79 machines across the PA13-PA19 postcode areas, with 56 of those providing cash for free or free at the till and the remaining 23 dispensing banknotes for a charge.
Cash is also available from a further 12 outlets provided by the Post Office, including mobile branches on certain days in Inverkip and Wemyss Bay.
The report highlighted how residents who feel their community needs better access to cash can contact LINK through its website to request a review.
People can also ask the organisation directly for ATMs in their area to dispense £5 notes.
Councillor Stephen McCabe, leader of Inverclyde Council and convener of policy and resources, said: "We've seen a sharp decline in the use of cash in recent years with the increase in card and online payments and that has naturally seen demand for ATMs fall.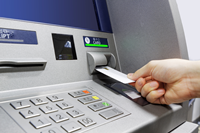 "But many people in our communities, particularly those who are vulnerable or on low incomes, still rely heavily on cash and need to have access to it as and when required.
"The report to committee highlighted the areas where cash machines are in good supply and also areas where potentially more are needed."
Cllr McCabe, who is also the council's welfare and financial inclusion champion, added: "It's reassuring to know that people can contact LINK UK directly to make the case for an ATM in their community and also request that machines dispense £5 notes, which I know could be important for many in times like these when finances are extremely tight.
"I encourage anyone who thinks their community would benefit from an ATM or for existing cash machines to dispense £5 notes to get in touch with LINK UK and make that request."
The report also highlighted how the council's chief executive wrote to the local external affairs manager for the Post Office in November 2021 to raise concerns about the closures of Post Offices in Inverclyde.
For more information about where to access an ATM, to request additional cash machines, and to request that machines dispense £5 notes, visit www.link.co.uk.
Inverclyde residents can also find out about their nearest ATM, as well as information about their bin collections, nearest health services, leisure facilities, public transport links and lots more, via the 'My Inverclyde' section of the council website which is available on the homepage at www.inverclyde.gov.uk or in the 'Other Websites' section of this page.
The report to the policy and resources committee and recording of the meeting can be found in the 'Other Websites' section of this page.