King's Coronation Public Holiday
A new public holiday will be created to mark the Coronation of King Charles III.
The public holiday has been proposed by the UK and Scottish governments and supported by proclamation through the Privy Council.
Now Inverclyde councillors have agreed that all council offices and buildings will be closed on Monday 8 May 2023 and the day will be a one-off public holiday to mark the occasion.
King Charles III's coronation will take place on Saturday 6 May 2023 at Westminster Abbey and Buckingham Palace has announced plans for a three-day celebration.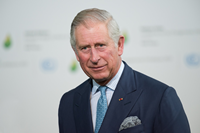 Inverclyde Council Leader and chair of the council's Policy and Resources Committee, Councillor Stephen McCabe, said: "The Coronation of a Monarch is a rare occasion and one that very few of us around today will have witnessed.
"It is an opportunity to share in a national occasion and I hope people take the opportunity to support the principle of using the holiday Monday to join the 'big help out' to volunteer with the number of local groups and organisations doing fantastic work here in Inverclyde."
Buckingham Palace has released details of the plans for the three-day celebration of the Coronation.
Saturday 6 May 2023
The Coronation Service at Westminster Abbey
The Coronation Service will take place on the morning of Saturday 6 May 2023 at Westminster Abbey.
At Buckingham Palace, The King and The Queen Consort, accompanied by Members of the Royal Family, will appear on the balcony to conclude the day's ceremonial events.
Sunday 7 May 2023
The Coronation Concert at Windsor Castle
A special Coronation Concert will take place at Windsor Castle. Produced, staged and broadcast live by the BBC and BBC Studios, the Coronation Concert will bring global music icons and contemporary stars together in celebration of the historic occasion.
The Coronation Big Lunch
Neighbours and communities across the United Kingdom are invited to share food and fun together at Coronation Big Lunches on Sunday 7 May 2023, in a nationwide act of celebration and friendship. From a cup of tea with a neighbour to a street party, a Coronation Big Lunch brings the celebrations to your neighbourhood and is a great way to get to know your community a little better.
Free downloadable resources will also be made available online by the Big Lunch team at CoronationBigLunch.com, to help people and communities start their Coronation Big Lunch planning.
Monday 8 May 2023
The Big Help Out
The Big Help Out will be held on Monday 8 May 2023 and is being organised by The Together Coalition and a wide range of partners such as The Scouts, the Royal Voluntary Service and faith groups from across the United Kingdom. The Big Help Out will highlight the positive impact volunteering has on communities across the nation.