Lift off for £33k outdoor gym and play park
IT'S lift off for a new outdoor gym and extended children's play park in Port Glasgow thanks to investment of £33,000 by Inverclyde Council.
The play area at Coronation Park has been extended and an outdoor gym added to enhance the existing offering at the popular location.
The children's park is one of five Inverclyde facilities being upgraded as part of a £365k council package of improvements and features new single and basket swings.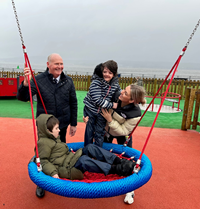 It comes hot on the heels of the flagship £200k play park at Lunderston Bay in Gourock, which opened in October 2022.
Meanwhile, the outdoor gym is only the second in Inverclyde after Battery Park and includes a bike, cross trainer, and hand/arm cycle.
Councillor Michael McCormick, Inverclyde Council's environment and regeneration convener, said: "This is another fantastic addition to Coronation Park that I'm sure will be well-used by locals and visitors.
"The playpark here is already very popular with families and the extension adds another dimension to a brilliant facility in such a spectacular location right on the Port Glasgow shorefront.
"The outdoor gym also adds something a bit different and I hope encourages more people to get outdoors and get active.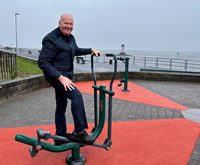 "Add in the now iconic Shipbuilders of Port Glasgow sculpture and Coronation Park and Port Glasgow in general are fast becoming a destination for the people of Inverclyde and beyond to visit."
The extended play area and outdoor gym opened earlier this week following completion of construction works and testing of equipment.
As well as Coronation Park and Lunderston Bay, the council has also made improvements to play parks at Wellpark and Craigend in Greenock and upgrades are due at King Street in Gourock.
For more information about things to do and see in Inverclyde, visit www.discoverinverclyde.com.