Work set to begin on stunning restaurant at new Greenock Cruise Ship Visitor Centre
One of Scotland's leading hospitality groups, Buzzworks Holdings, has received the keys to its new coastal site at the recently constructed Greenock Cruise Ship Visitor Centre.
Following the success of popular venues Scotts Largs, Scotts Troon and Scotts Port Edgar, fitting works are now due to start on the company's highly-anticipated Scotts Greenock venue in the coming weeks, representing the family run business' first venture into Inverclyde and generating more than 70 new jobs for the local community.
The stunning coastal venue will feature a striking central bar, whilst the luxurious restaurant and show-stopping open-air roof top terrace will boast the most incredible views out on to the River Clyde.
Scotts will bring its brand of stylish coastal escapism to Greenock and guests will soon be able to enjoy everything from classic fish and chips and mouth-watering burgers, to prime Scotch steaks and freshly landed langoustines cooked to perfection on the chargrill.
From the bar, Scotts will offer an impressive selection of wines and champagnes by the glass, not to mention an incredible cocktail selection prepared by some of the company's talented and award-winning mixologists.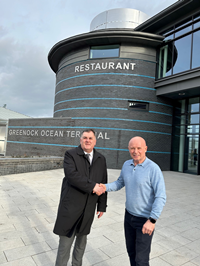 Internationally acclaimed designer Jim Hamilton is leading the design of the project, which will see Buzzworks invest a sizeable seven-figure sum into the venue.
Councillor Stephen McCabe, leader of Inverclyde Council, joined Buzzworks Chairman, Colin Blair, to celebrate the key handover at the new visitor centre, which has been supported by UK and Scottish government investment through the Glasgow City Region Deal and which is being delivered by Inverclyde Council.
Speaking at the key hand over, Colin Blair, Buzzworks Holdings Chairman, said: "It's a great moment for Buzzworks to finally access the Greenock Cruise Ship Visitor Centre and begin our much-anticipated renovations for our new Scotts Greenock restaurant.
"The new venue has been in the pipeline for a number of years and is another major milestone in our continued growth strategy, so we can't wait to get started in creating another fantastic Scotts venue in Inverclyde, which will cater for all within the local area and beyond.
"Both Buzzworks and Scotts has become synonymous with great food alongside world class service, and with such a spectacular setting here in Greenock, we look forward to continuing that tradition, bringing both a new and exciting dining experience to the area and helping to create numerous opportunities for the local community to work."
Alongside the new Buzzworks restaurant, the dedicated Greenock cruise ship visitor centre will feature a museum paying tribute to the late artist George Wylie, who worked as a customs officer in Greenock and lived in Gourock for many years and a dedicated arrival and departures hall for the many cruise ships that dock in the area.
Inverclyde Council believe that the development is expected to increase visitor numbers to 150,000 a year and provide a £26 million boost to the Scottish economy.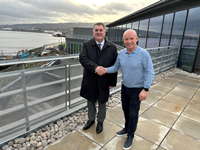 Councillor Stephen McCabe, leader of Inverclyde Council, said: "This is another significant milestone in the delivery of what will be a first class facility for the people of Inverclyde and the many thousands of cruise ship passengers and crew who will pass through here.
"We're delighted to have secured such a high-calibre operator in Buzzworks and their famous Scotts brand for the restaurant space and I'm sure it will be a huge success once it is up and running.
"There are also 70 jobs being created, which is a welcome boost to the local economy.
"It's another exciting addition to the area and another reason for people from near and far to visit these shores and discover Inverclyde."
As works get underway on Scotts Greenock, family-owned Buzzworks will be offering a number of exciting jobs opportunities across the venue, both within the kitchen and front of house.
With industry-leading benefits for both chefs and their teams, including competitive rates, career progression, flexible working and health and wellbeing incentives, there is a vast range of opportunities on offer at Buzzworks, which was recently named once again in the Top 100 places to Work in the UK.
If you or anyone you know is interested in working at Scotts – or any of Buzzworks other venues across Scotland – please visit www.buzzworksholdings.com/careers or check out the Buzzworks People Facebook, Instagram or LinkedIn pages to find out more and apply. 
Alongside Scotts Greenock, the award-winning company offers an aspirational dining and entertainment experience across Scotland through its other stylish brands – Scotts, House, Lido, Vic's & The Vine, The Duke, Thirty Knots, The Bridge Inn, The Fox, Thirty Knots and Herringbone.
About Buzzworks Holdings 
Buzzworks Holdings is one of Scotland's fastest growing independent restaurant and bar operators, managing sixteen prestigious venues across East, West & Central Scotland with one more on the way and over 650 staff.  
The award-winning company offers an aspirational dining and entertainment experience through its stylish brands – Scotts, House, Lido, Vic's & The Vine, The Duke, The Bridge Inn, The Fox, Herringbone and Thirty Knots. 
Buzzworks Holdings believes in investing in its people, providing bespoke training opportunities and a forward-thinking approach to work life balance for every member of staff.