New £3m Greenock nursery official opening
The new Larkfield Early Learning Centre was officially opened last week by Councillor Jim Clocherty.
Larkfield Children's Centre opened and was operational in May 2011, located in part of what had been the Sacred Heart Primary School building. This site was registered for 45 children aged 0 – 5 years old and was also shared by numerous primary schools.
During this time the council began to plan for its response to the expansion of early year provision as part of the national 1140 project and it was decided that a new children's centre for the children of Larkfield at a cost of £3M would be built, significantly improving the quality of the environment as well as increasing the number of children who could attend.
The new building and site are currently registered to provide early years education for up to 100 children from 0 – 5 years old supported by 43 staff.
This new state of the art nursery was delivered by the council alongside hub West and CCG and designed by architects Holmes Miller.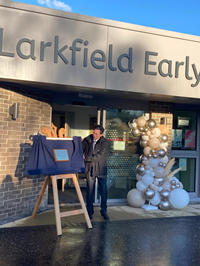 Councillor Jim Clocherty, convener of Education and Communities said "The new building was constructed almost entirely during the pandemic which makes the achievements of CCG Scotland, the contractor, architects Holmes Miller, along with our own estate's team, even more impressive.
"The new building and outdoor provision have significantly enhanced the quality of the centre and the opportunities for learning both indoors and outdoors.
A Care Inspectorate report on 19 May 2022 graded all Quality Indicators as Good, just 6 months after moving into the new building.
"This is a testament to the hard work of Dorothy McCormick, Head of Centre, and her team. Dorothy took up the post in August 2021 giving her only 3 months to lead and organise the move down the hill to the new site!
The Care Inspectorate found happy, settled children having fun at nursery. They reported that they were supported by kind and caring staff who responded appropriately to their needs, helping them feel secure.
"Children in Larkfield and surrounding areas now have a bright and modern building for learning indoors and with plenty of outdoor space as well.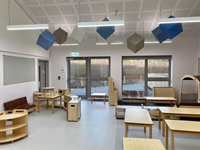 Kevin Doyle, Operations Director, Hub West Scotland commented: "Hub West Scotland were delighted to attend the official opening of the Larkfield Early Years Centre.
"This investment by Inverclyde Council has created another inspiring high-quality learning environment helping to shape children's future development.
"This success would not have been possible without the leadership and collaborative approach of the Inverclyde team so thanks to John Crighton, Gavin Murray and Eddie Montgomery.
"We look forward to future opportunities to help plan and deliver high-quality projects and maximise benefits for local communities."