Greenock Ocean Terminal welcomes one of the world's largest cruise liners
Greenock Ocean Terminal today hosted one of the world's largest cruise liners – as the terminal welcomed over 4,000 passengers to the terminal.
The MSC Virtuosa, which is a whopping 330m-long, berthed at the terminal earlier this morning.
And the 4,218 passengers that arrived on the massive cruise liner are one of the highest figures for a single cruise call in the Peel Ports-owned terminal's history.
The port also welcomed its first ever "double turnaround"– with two separate sets of passengers starting their trip at Greenock on the same day – when luxury cruise vessel Le Champlain also arrived on the same day at the port, carrying another 140 guests.
The prestigious MSC Virtuosa has a gross tonnage of 181,500, 2,421 cabins and a capacity for 1,704 crew members.
The 19-deck megaship also has an indoor promenade packed full of restaurants and shops, five swimming pools and a waterpark.
MSC Virtuosa also boasts 21 separate bars as well as the world's first humanoid robotic bartender at sea – called Rob - who cracks jokes, serves cocktails and can speak eight languages to guests.
Le Champlain, named after the French explorer of the same name, boasts five decks. Its deluxe cabins are equipped with private balconies and a butler service, and the ship also has a theatre, swimming pool, gym and hair salon.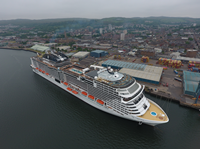 Jim McSporran, Clydeport Port Director at Peel Ports said: "It's always a pleasure welcoming any of our cruise ships to Greenock, and liners don't get much more eye-catching than the MSC Virtuosa and Le Champlain.
"It's lovely to be welcoming so many to the terminal today and comes on the back of us recently announcing a record year for the most liners visiting us in one season.
"It's shaping up to be a great year – and we hope all the guests arriving today enjoy their visit to Scotland."
Councillor Stephen McCabe, leader of Inverclyde Council and City Region cabinet member, added: "We really are on the crest of a wave with yet more ship and passenger records being broken this year as we work alongside Peel Ports and our other partners to grow Greenock and Inverclyde as a premier cruise destination.
"A key component of that is the new visitor centre which will be opening soon to complement the dedicated cruise ship berth which is already successfully up and running.
"Greenock already has a proud reputation as one of the friendliest and most picturesque ports in the world and the new visitor centre will only enhance that further for not only the 100,000-plus overseas visitors each year but the many thousands of people near and far who also come here to discover what Inverclyde has to offer."
The MSC Virtuosa, which departs this evening, previously set a record as the largest ever vessel to sail into Inverclyde when it arrived on its maiden trip in 2021, but it had a much-reduced capacity due to the Covid pandemic.
Its visit to the terminal forms part of the Northern European leg of its journey and it will later this summer pass through Barcelona and Malaga in Spain, as well as Toulon in France.
The port operator previously announced it was set to experience its busiest year since records began – with 91 cruise liners booked into the Inverclyde town's new dedicated pontoon across 2023 – a rise of over 25 per cent on last year.
As many as 150,000 passengers and 38,000 crew members are expected to pass through the port over the course of this year.
The ship's arrival comes ahead of the completion of a new £19.2million cruise ship visitor centre later this year at the terminal.
The project, led by Inverclyde Council, is part of the £1 billion Glasgow City Region City Deal funded by the Scottish and UK governments.
Inverclyde Council has estimated the development will provide a £26million boost to the Scottish economy.