Gourock Highland Games 2023 chieftain announced
A BUSINESS leader from Inverclyde has been named as the chieftain for this year's Gourock Highland Games.
Dr Liz Cameron CBE, chief executive of the Scottish Chambers of Commerce, will do the honours at the annual spectacular in Battery Park on Sunday 14 May 2023.
A resident of Gourock, Liz was awarded a CBE in the 2022 Queen's New Year's Honours List and for services to the promotion of Scotland and UK International Trade.
It followed on from an OBE awarded in 2013 for services to business and commerce.
Dr Cameron has an extensive CV and many successes representing the world of business at Scottish, UK and international levels and is credited with spearheading new public-private partnerships supporting some 900 new small and medium sized enterprises, helping them increase turnover by up to £25 million and creating over 300 jobs.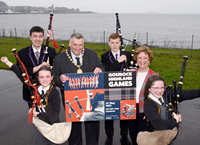 At a local level, Dr Cameron is a member of the Inverclyde Socio-Economic Task Force set up by the council in partnership with the UK and Scottish governments to help explore and deliver investment opportunities in Inverclyde to boost the economy and generate employment opportunities.
The Gourock resident is also a member of the Inverclyde Leisure board of directors.
Dr Cameron said: "As someone who lives and grew up locally, it's a huge honour to be asked to be the chieftain of Gourock Highland Games.
"It's such a well-run and popular event that brings the whole Inverclyde community together and also draws in people from outwith the area and even overseas.
"It also showcases the magnificent talent we have locally, the wonderful views and facilities, and is an opportunity for many traders to showcase their wares to a diverse audience.
"Those are just a few examples of why I'm delighted to be asked to be the chieftain and why I'm very much looking forward to the event itself on Sunday 14 May 2023. Let the games begin!"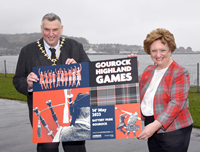 The chieftain was welcomed by Provost of Inverclyde, Drew McKenzie, and budding young pipers from local primary and secondary schools.
Provost Drew McKenzie said: "We're very excited to have Liz on board as the chieftain of the 2023 Gourock Highland Games.
"Liz has been a prominent figure in Scottish business for many years and has spearheaded so many great initiatives so I know the games are in safe hands with Liz at the helm.
"We have another jam-packed programme of events and if last year is anything to go by we're in for another cracker right on the shores of the Clyde at Battery Park."
The event, which features an array of 'heavies' events, Highland dancing, piping, stalls and food kiosks, will take place at Battery Park on Sunday 14 May 2022 from 12-6pm and it is free entry.
The Gourock Games are the first of the season and are organised in partnership with the Royal Scottish Highland Games Association (RSHGA).
Ian Grieve, from the RSHGA, said: "We are all looking forward to the 2023 season and wish the team at Gourock Highland Games all the best in getting the RSHGA season underway on 14 May at Battery Park.
"We hope they get a large crowd and good turnout of competitors to support this great event."
The games are also part of the Inverclyde Meliora Festival for the second consecutive year.
For more information about the 2023 Gourock Highland Games visit www.discoverinverclyde.com.