Record apprentices celebrate Scottish Apprenticeship Week 2023
A RECORD number of modern apprentices have joined the ranks of Inverclyde Council in the past year and some have been sharing their stories to encourage others to pursue an apprenticeship.
The local authority currently has its largest ever intake of modern apprentices (MAs) with 77 in total across a range of services, from horticulture to roads maintenance.
A further 55 employers have been supported to hire 90 apprentices across the area through the council's apprenticeship wage subsidy programme.
The majority of the current crop of council MAs gathered at the Municipal Buildings in Greenock to mark Scottish Apprenticeship Week 2023, which is organised by national agency Skills Development Scotland and runs from 6-10 March.
The local authority's successful MA scheme has been running for many years and provides opportunities to young people from the area to work towards recognised qualifications while learning and earning on the job.
Working in partnership with quality training providers and drawing on the extensive experience of council staff across various departments, the scheme combines a mix of in-work learning and college attendance/support.
Current apprentices are undertaking qualifications and work experience in roles including horticulture, roads maintenance, childcare, business administration, customer service, school technician, vehicle mechanic, stores and waste management.
Councillor Michael McCormick, Inverclyde Council's convener of environment and regeneration, said: "An apprenticeship provides an excellent launchpad for our young people to pursue a successful career in their chosen field.
"With support from experienced, professional staff right across the council, they learn valuable workplace and often life skills while working towards an industry-recognised qualification and, crucially, earning a wage at the same time.
"Whether our MAs continue working with the council at the end of their apprenticeship, carry on their careers in the private or third sectors, or move into further training or education, they will have had a solid grounding that sets them up for whatever path they choose next.
"It was great to meet so many of our talented young workforce and find out a bit more about their experiences to help celebrate Scottish Apprenticeship Week 2023 and I wish them continued success."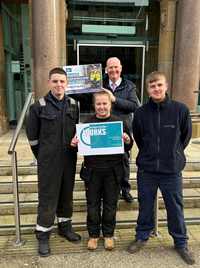 As well as attaining the relevant qualification, the scheme provides MAs with additional training if required, to ensure their learning encompasses all aspects of their job role.
They also receive digital devices and connectivity to enable them to work off the job on their college work and provide access to a range of life skills, including money management.
The council works in partnership with local third sector organisations to provide additional on-the-job learning, including Parklea Branching Out, Branchton Community Centre, Belville Community Gardens and Broomhill Gardens.
Among the current batch of MAs is Eilidh Brown who is the first female apprentice joiner.
Eilidh, who is 19 and from Gourock, said: "It's a four-year joinery apprenticeship and I'm really enjoying it so far.
"It's challenging but I love the hands-on experiences that it provides.
"I'm gaining skills and knowledge of a professional trade that will hopefully allow me to secure employment once fully qualified.
"I hope I can also encourage more females into this industry."
Fellow trainee Hayden O'Neill has been taken on as a vehicle mechanic apprentice and is also having a positive experience.
Hayden, 17, from Greenock, said: "I secured my apprenticeship upon leaving school in June 2021 and I'm enjoying it.
"Being able to gain actual hands-on experience in a busy working environment whilst completing my vocational training both in the workplace and at a training centre is a fantastic way to earn a living but also develop skills to enhance future employment opportunities."
The council's MA programme is open to Inverclyde residents and although the focus is on providing opportunities for those aged 16–24, roles are often available to people aged 25+.
New school craft technician Mark Strachan is now 25 but joined the programme when he was 24.
Mark, from Greenock, said: "I had over five years' experience in retail management when I decided on a change of career and successfully gained an apprenticeship in September 2022.
"I was looking for a new challenge and that's exactly what this role provides.
"Attending college three days per week and putting the skills I have learned into practice alongside a qualified technician in the workplace allows me to get a good variety of practical experience.
"I have never looked back and I am really glad that I made the decision to apply for a modern apprenticeship."
It was a similar story for horticulture MA Stephen Daisley, who was lured into the programme by the prospect of learning a trade.
Stephen, 25, from Greenock, said: "I applied because I wanted to improve my skills and gain knowledge and experience whilst learning a trade.
"I enjoy manual roles that allow me to work with machinery and tools so this is a good balance of on the job work as well as attending college on a day release to undertake an SVQ.
"I'm hoping the apprenticeship will help me secure future employment because by the end of it I will have gained the skills and knowledge, as well as a specific qualification, for this type of job role."
Former business admin MA Niamh Dodson is one of the many success stories who secured full-time employment at the conclusion of her course in June 2022 and remains with the council working in the education service.
Niamh, 22, from Greenock, said: "After leaving school I went to university but didn't feel it was right for me.
"I applied for a modern apprenticeship so that I could continue learning as this is something that I enjoy.
"By going down this route I have gained valuable experience that I wouldn't have been able to with further education.
"I'm now able to continue to use all of that experience having been successful in securing a full-time position within my host department."
For more information about Scottish Apprenticeship Week, visit https://www.apprenticeships.scot/events/scottish-apprenticeship-week/