Recruitment event on World Social Work Day 2023
AN event will take place in Greenock next week to celebrate World Social Work Day and give people the chance to find out about a career in social work in Inverclyde.
The annual day of awareness is on Tuesday 21 March 2023 and Inverclyde HSCP staff are hosting an informal information and recruitment afternoon in the Beacon Arts Centre from 1.30-4pm.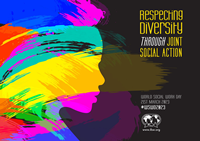 This drop-in event is an opportunity for anyone interested in social work to find out how to pursue a career in social work, discover what opportunities are currently available in Inverclyde, and speak directly to people who are already working across the community as social workers, including in homecare and children and families.
This year's World Social Work Day theme is 'Respecting diversity through joint social action'.
It stems from the People's Charter for a New Eco Social World and recognises that change happens locally through our diverse leaderful communities.
World Social Work Day provides an opportunity to acknowledge how communities can make powerful actions that lead to inclusive social transformation.
For more information about the event at the Beacon or about pursuing a career in social work, contact Lynne Armstrong@Inverclyde.gov.uk.
To find out about job opportunities in Inverclyde visit https://www.myjobscotland.gov.uk/councils/inverclyde-council/jobs.