Stadium makes its mark
INVERCLYDE'S iconic Ravenscraig Stadium has made its mark on the UK stage after being officially recognised as a top athletics venue.
The Greenock sports facility has received TrackMark accreditation from national governing body UK Athletics for being well-managed, maintained, and accessible to participants of all abilities.
It is a quality assurance scheme developed in consultation with track operators, track and field athletics clubs and national sports councils.
The accreditation was achieved through partnership working between Inverclyde Council and its active schools service, which is run in partnership with sportscotland, Inverclyde Leisure, Inverclyde Athletic Club, and Scottish Athletics.
Councillor Jim Clocherty, Inverclyde Council's convener of education and communities, said: "This is a wonderful accolade for Ravenscraig Stadium and worthy recognition for the hard work and effort of all partners involved in providing, promoting and making best use of what is a first-class facility for the people, clubs and organisations of Inverclyde but also to our many visitors who compete here.
"As well as being a 'go to' place for athletics, Ravenscraig is also famous for having hosted the first ever officially recognised women's international football match between Scotland and England in 1972 and is the home of local club Greenock Juniors."
Councillor Sandra Reynolds, Inverclyde Council's sports and healthy lifestyles champion, said: "There are very few areas that can boast a multi-sport facility like this, complete with a grandstand, changing rooms and hospitality area so congratulations to everyone involved in achieving this status.
"The facilities were recently given a makeover ahead of the women's football 50th anniversary match between Scotland and England under-15s sides in May last year and shows the commitment from the council alongside Inverclyde Leisure and our various partners in ensuring Ravenscraig continues to be a top-class facility for all sports and this accreditation underlines that."
TrackMark is UK Athletics' new quality assurance scheme for outdoor track and field athletics facilities.
It demonstrates to hirers, athletes, officials, coaches and parents that an accredited venue ticks all the boxes.
Ian Dyer, Inverclyde Leisure's operations manager for community facilities, parks and pitches, said: "Inverclyde Leisure welcomes the continued investment by Inverclyde Council at Ravenscraig Stadium.
"The attainment of the TrackMark accreditation will allow competitions at various levels to be delivered at the track.
"Thanks should go to Scottish Athletics, UK Athletics and the Local Athletics Partnership for their continued support and input to the process."
There are approximately 380 athletics stadiums in the UK, with around 110 of these – 29 per cent – having TrackMark accreditation.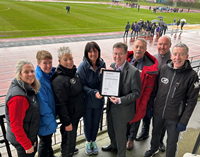 Gerry Gaffney, Inverclyde AC president and chair of the Local Athletics Partnership, said: "A venue that achieves TrackMark is recognised by UK Athletics as being well-managed, well-maintained, safe and accessible to all users.
"We're lucky to have such a first-class facility right on our doorstep here in Inverclyde and one that, as a club, we're proud to be associated with and to have helped in achieving this worthy recognition.
"IAC, in conjunction with Scottish Athletics are hosting an U12 Superteams event at the Stadium on Sunday 21 May which would not have been possible without the TrackMark accreditation."
Lindsay McMahon, national clubs manager at Scottish Athletics, said: "I am delighted that Ravenscraig Stadium has been awarded TrackMark accreditation.
"It's great to see how positive partnership working between Inverclyde Leisure and Inverclyde AC, shows that everyone involved is working together to provide the athletes of Inverclyde the best possible facilities in support of achieving excellence in athletics on a local, national and world stage.
"TrackMark accreditation also allows for competitions to be held at the facility which will be a major benefit to the local athletes, especially with the upcoming U12 Superteams event."
Ravenscraig Stadium is owned by Inverclyde Council and managed by Inverclyde Leisure.
For more information about the TrackMark scheme and to find out about Ravenscraig Stadium and other facilities operated by Inverclyde Leisure, click on the links in the Other Websites section of this page.