Greenock Waterfront main pool reopens after moveable floor replaced
Swimmers can dive back in to the main pool at Greenock Waterfront after works were completed.
The pool, which is owned by the council and managed by our partners, Inverclyde Leisure, closed in early September to allow for the replacement of its moveable floor.
Contractors began by draining the 725,000 gallons of water from pool over four days before installing the new £400,000 floor.
The pool has since been refilled and reopened to the public on Friday, November 3 from 7am.
Education and Communities Councillor Jim Clocherty, who also sits on the Inverclyde Leisure board, said: "It's great that this work has been completed on time and the pool is going to reopen.
"Having a moveable floor is a fantastic resource for our swimmers and I'm delighted it's been replaced.
"We have first class facilities here in Inverclyde and as a council, we are pleased to support them."
During the closure, additional work to install new led lighting and grout the pool was also carried out.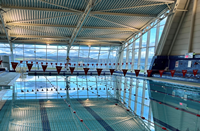 Once the main pool reopens, temporary timetables at the Waterfront Leisure Pool and Port Glasgow Pool will revert back to normal.
Gourock Pool closed its doors for the 2023 season last Sunday. The iconic outdoor pool had extended its season as a result of the closure of the Waterfront main pool.
It celebrated the end of its season with a Doggy Dip on Sunday afternoon where pooches and their owners took to the water together.
A spokesperson for Inverclyde Leisure said: "We would like to express our gratitude to Inverclyde Council, whose support has made this refurbishment project and extended season at Gourock possible.
"We thank them for their continued investment in Inverclyde Leisure facilities."
For more information on opening times and pricing, go to the Inverclyde Leisure website in the right hand column.