Historic fountain lit red for Remembrance
AN historic fountain in the heart of Greenock is lighting up red as part of Inverclyde's Remembrance commemorations.
The famous Lyle Fountain in Cathcart Square, which was gifted to the town in 1880, is being illuminated in honour of the brave men and women who paid the ultimate sacrifice during wars and conflicts.
The structure was recently restored by Inverclyde Council and now coloured lights have been added to the prominent town centre feature and they are being used for the first time during Remembrance Week.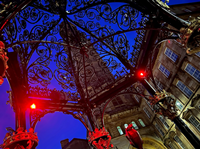 Other local monuments including nearby Ginger the Horse sculpture on Cathcart Street, the Free French Memorial at Lyle Hill, and the Shipbuilders of Port Glasgow statues are also lighting up red as a mark of respect.
Councillor Michael McCormick, Inverclyde Council's convener of environment and regeneration, said: "It's very fitting that the first time these new coloured lights on the Lyle Fountain are being used is for Remembrance.
"We must never forget the sacrifices made by the brave men and women of our Armed Forces during both World Wars and all conflicts since.
"The lighting of local monuments like the newly-restored Lyle Fountain is a small but symbolic way of honouring those who perished while protecting our freedoms and ensuring their lasting impact is never forgotten."
The 143-year-old fountain was gifted to Greenock by Abram Lyle, the founder of the Lyle sugar refinery which would later merge with Henry Tate's refinery to form Tate & Lyle, which is a brand known around the world to this day.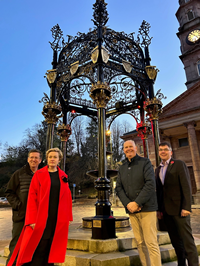 He served as provost from 1876 to 1879 before moving to London to set up a refinery producing golden syrup.
The circular fountain is capped with an ornamental dome featuring the crests of 18 prominent families of Greenock including Ardgowan, Watt and Morton.
A specialist contractor that previously renovated the Grand Fountain in Fountain Gardens, Paisley, was appointed to carry out the delicate restoration work.
The restoration project began in 2021 and has been carried out in phases with the main ironworks completed last year and the installation of the coloured lights was finalised this week.