More than 100 local organisations have been awarded a share of over £280,000
More than 100 local organisations have been awarded a share of over £280,000 from Inverclyde Council to support the work they do in the community.
A range of sporting, music, arts, community and voluntary groups applied to the council's Community Grants Fund.
And 102 of them will receive a share of the £282,706 awarded to enable them to continue their good work across Inverclyde.
The money will pay for things like hall hire, running costs, staff and volunteer training, community events and sports kit for groups reaching all ages across the area.
Councillor Graeme Brooks, chair of the Inverclyde Council grants sub-committee, said: "Once again we are delighted to be able to support a wide range of groups doing such good work in the Inverclyde community.
"Everyone is well aware of the financial pressures facing local government but despite this, we have been able to support 102 groups, more than the 83 we supported in the last round.
"We received requests for more than £900,000 of funding so it's a difficult task for myself and my colleagues on the grants sub-committee to make these decisions and I'd like to thank them once again for their support.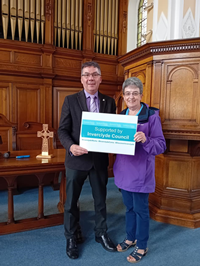 "I hope these awards give our community groups some much-needed financial support and will allow them to grow and develop the work they do for so many in our community."
Given the current financial restraints, the total budget available to councillors this year was reduced by 25 per cent. However councillors on the grants sub-committee agreed to fund more groups than before.
One of the recipients was Port Glasgow New Parish Church which received £1,500 towards the running costs of the church's many community groups and clubs.
Sheena MacFarlane, one of the church's three session clerks, said the funding would make a big difference to what they can offer the community through the church.
"We have got lots and lots of new groups which have started up in the last year.
"Our halls are more or less used every day with community groups. We have the Dove Café on Wednesday afternoons which is for people living with dementia and their carers, Walking Football on Fridays, a Walk and Talk group every second Saturday morning, the Tuesday Club for senior citizens and we've just started a playgroup on Thursday mornings.
"All the groups are completely free and we want to keep it that way to reach everyone who would benefit. We have great support from our church volunteers run them.
"This Community Grant helps towards our core costs so things like heating and lighting. We were delighted to get it."
Crow Cottage Arts in Gourock received £6,000 which they will use to fund art classes with Clydeview Academy, Inverclyde Shed, amateur artists and members of the community for a programme called Inner Visions. It will culminate in an exhibition at St John's Church in Gourock in November.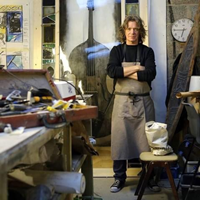 Louise Wylie from the gallery said: "We're taking it right back to the beginning and we're going to talk to people about how the church and stained glass are linked to each other. We'll look at the role of stained glass in traditional settings and how modern-day spirituality connects to this.
"Thanks to the grant funding, we're offering the courses for free and have had a great response, we filled the community workshop in two days.
"The money is important as we can buy materials for the courses and we'll use the feedback and input from people in Inverclyde as a springboard to a wider, national conversation."
Money has been made available from the local authority's new Community Grants Fund, which combines the former Grants to Voluntary Organisations (GTVO), Under-19s Sports and Community Hall Waivers funding pots.
For more information and to find out how to apply, visit www.inverclyde.gov.uk/communitygrants.
COMMUNITY GRANTS FUND 2023/24 – ROUND 1
Approved Awards
Category

Applicant

Details

Requested

Awarded

1

Arts

Brass Sounds Inverclyde

Support towards replacing old equipment

£3,199.00

£1,125.00

2

Arts

Crow Cottage Arts

Support towards core stock of equipment and resources for community classes

£9,600.00

£6,000.00

Conditional

3

Arts

George Wyllie Foundation (The Wyllieum)

Support towards 4-day education programme to explore art mediums then a community celebration day – October 2023

£9,890.57

Unsuccessful

4

Arts

Greenock Light Opera Club

Support towards show costs for November 2023

£3,000.00

£750.00

5

Arts

Greenock Players

Support towards storage; rehearsal space and show production costs

£10,000.00

£1,500.00

6

Arts

Inverclyde Music Festival

Support towards costs of Music Festival

£18,315.00

£3,562.50

7

Arts

Inverclyde Youth Theatre (Kayos)

Support towards rehearsal space; storage; insurance; venue hire and sets and props hire

£9,801.58

£1,500.00

Conditional

8

Arts

RIG Arts

Support towards rent and utility costs

£6,735.00

£3,000.00

9

Arts

Riverside Youth Band

Support towards hall hire; running costs

and Musical Director fees

£6,980.00

£1,870.00

Conditional

10

Bowling Club

Ardgowan Club Bowling Section

Support towards rates and energy costs

and new picnic benches

£10,000.00

£1,000.00

Conditional

11

Bowling Club

Fort Matilda Bowling Club

Support towards path drainage; foundations for ladies changing room extension and replacement of bowling green surround banking

£11,100.00

£2,250.00

Conditional

12

Bowling Club

Gourock Bowling Club

Support towards running costs; lounge and lighting upgrade and new railings

£17,000.00

£1,000.00

13

Bowling Club

Gourock Park Bowling Club

Support towards utility costs; greens and machinery maintenance and new obstacles for crazy golf course

£5,015.00

£2,250.00

14

Bowling Club

Grosvenor Bowling Club

Support towards running costs and greens maintenance

£6,000.00

£2,250.00

Conditional

15

Bowling Club

Hillend Bowling Club

Support towards greens maintenance; utility costs and new radiators for the

clubhouse

£9,095.00

£2,250.00

16

Bowling Club

Inverkip Bowling Club

Funding for replacement of bowling green edging

£5,200.00

£2,250.00

Conditional

17

Bowling Club

Lady Alice Bowling Club

Support towards bowls for juniors and public; running costs; greens and lawnmower maintenance and upgrade of paths ahead of Greenock & District Finals next year

£10,100.00

£2,250.00

18

Bowling Club

Port Glasgow Bowling Club

Support for heat/light costs and

refurbishment of ladies' toilets

£9,500.00

£2,250.00

19

Bowling Club

Rankin Park Bowling Club

Support towards running costs and

outdoor seating and storage for around the bowling green

£15,600.00

£2,250.00

Conditional

20

Bowling Club

Victoria Bowling Club

Support towards greens maintenance and kitchen refurbishment

£6,500.00

£1,000.00

21

Bowling Club

Wellington Park Bowling Club

Support towards greens maintenance; scoreboards/mats/jacks and marquee for Bowl Scotland national event to be held June 2024

£4,600.00

£2,750.00

Conditional

22

Care

Ardgowan Hospice

Support towards eco-friendly environment and counselling/ physiotherapy and training for staff/volunteers

£10,000.00

£1,500.00

Conditional

23

Care

Inverclyde Enable

Support towards transport

£3,000.00

£2,250.00

Conditional

24

Care

Inverclyde Faith in Throughcare

Support towards the hire of premises/programme costs to allow for courses to support health and

wellbeing and build resilience

£10,000.00

£3,750.00

25

Care

Inverclyde Family Contact Centre

Support towards overhead costs and PPE equipment

£10,000.00

£3,750.00

Conditional

26

Care

Inverclyde Voluntary Council of Social Service (IVCSS)

Support towards running costs including vehicle insurance, repair and maintenance

£10,000.00

£7,500.00

Conditional

27

Care

Man On! Inverclyde

Support towards operational costs and

pitch hire for football sessions

£10,000.00

£3,750.00

Conditional

28

Care

Moving on Inverclyde

Support towards structured health and

wellbeing sessions

£5,640.00

£2,250.00

Conditional

29

Care

Port Glasgow Voluntary Transport

Support towards annual running costs

£71,936.00

£7,500.00

30

Community

Access Technology Scotland CIC

Support towards building a digital community between ATS and Financial

Fitness

£9,600.00

£1,500.00

Conditional

31

Community

Auchmountain Glen Project

Support towards hall rental and resources for new path and handrails throughout the glen

£4,500.00

£1,500.00

Conditional

32

Community

Belville Community Gardens Trust

Support towards increased running costs

£10,000.00

£3,750.00

33

Community

Caddlehill Allotment

Support towards replacement of doors

creating a door entry system and overhead canopies for each door

£5,800.00

£1,500.00

34

Community

Campaign to Save Inchgreen Dry Dock

Support towards professional advice; website; admin costs and marketing

£8,700.00

Unsuccessful

35

Community

Financial Fitness

Support towards partnership programme with Access Technology Scotland on financial advice and digital training

£9,252.00

£1,500.00

Conditional

36

Community

Gibshill Community Centre

Support towards sporting sessions - equipment, sports coach and volunteer

expenses

£5,200.00

£2,250.00

37

Community

Gourock Garden Party (Gourock Community

Council)

Support towards hosting the Gourock

Garden Party 2024

£7,579.09

£2,250.00

Conditional

38

Community

Greenock South West Community Council

Support towards Christmas lunch/treat for elderly and children in the community

£3,600.00

£2,250.00

39

Community

Greenock Torpedo Factory Club

Support towards new boiler and Remembrance Sunday event

£11,700.00

£1,700.00

Conditional

40

Community

Grieve Road Community Centre

Support towards resources; food/refreshments for sessions; family fun sessions; resources for clothing bank and hall rental

£10,000.00

£3,000.00

Conditional

41

Community

Inverclyde Across to Lourdes

Support towards rental of charity shop for fundraising purposes

£600.00

£450.00

42

Community

Inverclyde Association for Mental Health

Support towards running costs; gardening resources and admin/ marketing

£10,000.00

£1,875.00

43

Community

Inverclyde Christian Initiative

Support for uniforms; resources; promotional materials and travel costs

£5,923.00

Unsuccessful

44

Community

Inverclyde Muslim Centre

Support towards youth work activities; community events and creating a refugee base

£7,500.00

£1,875.00

Conditional

45

Community

Inverclyde Vineyard Church

Support towards community events -

Autumn 23, Easter/Summer 24

£5,989.00

£1,125.00

Conditional

46

Community

Kidron Project

Support towards coaches for community

courses; resources; venue hire and marketing

£10,000.00

£1,500.00

47

Community

Legal Services Agency Ltd

Support for repair to ceiling at Greenock

office

£816.00

Unsuccessful

48

Community

Lyle Gateway

Support towards purchase of catering equipment and folding tables following increase in demand on services

£4,000.00

£3,000.00

49

Community

Parklea Association Branching Out

Support towards delivering 'Community Inclusion' programme - community dance, digital inclusion, multi-sport and growing and learning together

£25,350.00

£3,750.00

Conditional

50

Community

Port Glasgow New Parish Church

Support towards running costs; training and resources for community groups

£6,074.00

£1,500.00

51

Community

Port Glasgow United Reformed Church - Church

Angels Project (Foodbank)

Support towards purchase of food items

for emergency foodbank

£9,600.00

£3,000.00

52

Community

St Johns Church, Gourock

Support towards 2 week event celebrating Gourock Artists through lens of arts and spirituality

£9,891.00

£800.00

53

Community

The Celtic FC Supporters Club

Support towards new heating/air

conditioning system

£10,000.00

£2,250.00

Conditional

54

Community

The Whisky Chairmen Ltd

Support towards insurance and

community project resources

£9,761.93

Unsuccessful

55

Community

Trade Rights International CIC

Support towards rental costs and the creation/resourcing of a training space

£9,805.99

£1,125.00

56

Community

Wemyss Bay Community Association

Support towards utility costs

£6,000.00

£3,000.00

57

National/

Regional Organisation

Home Start Inverclyde

Support towards rental of Greenock base and training/resources for a range of planned programmes

£9,965.00

£2,812.50

Conditional

58

National/

Regional Organisation

Parkinsons Inverclyde Support Group

Support towards transport costs

£490.00

£490.00

59

National/

Regional Organisation

Victim Support Inverclyde

Support towards overhead costs for local office

£5,000.00

£3,000.00

60

Older People

Greenock IBM Retirees

Support for hall hire; events and outings

£4,150.00

Unsuccessful

61

Older People

Silverline Dancers

Support for hall hire

£800.00

£600.00

62

Older People

St Marys Episcopal Church (Heartland Circle)

Community transport for Heartland Circle, dementia group; materials for flower arranging class and music therapy

£2,000.00

£1,500.00

Conditional

63

Older People

The Tuesday Club

Support towards outings, coach hire and Christmas gifts

£2,000.00

£750.00

64

Older People

WISHES Group (Women's Initiative for Social Health

& Educational Skills)

Support towards hall hire; resources and events

£2,000.00

£750.00

Conditional

65

Older People

WOOPI Singers

Support towards hall rental and transport costs

£500.00

£375.00

Conditional

66

Sport

AR26 Charity

Community programme offering free football to all. Weeknight football and camps for 6-14 years

£6,017.50

£2,830.00

Conditional

67

Sport

Ardgowan Thistle Football Club

Support towards pitch hire

£10,000.00

£4,500.00

68

Sport

BOUNCE Basketball Inverclyde

Support towards hall hire

£1,976.00

£1,482.00

Conditional

69

Sport

Clyde Netball

Support towards strips and hall hire for

training and matches

£11,874.58

£3,750.00

70

Sport

Gourock Golf Club

Support to replace windows at rear of clubhouse, age of current windows is allowing water ingress resulting in damage to certain areas

£4,625.00

Unsuccessful

71

Sport

Greenock & District Rifle Club

Support towards insulation to reduce energy costs and concrete flooring to meet hygiene standards

£9,000.00

£1,500.00

72

Sport

Greenock & District Welfare Football League

Support towards pitch hire for league

games

£8,400.00

£3,750.00

73

Sport

Greenock Boxing Club

Support towards new equipment and 50% of lease costs for new premises

£9,380.00

£4,875.00

74

Sport

Greenock Cricket Club

Support towards school coaching; hire of hall for training and equipment/line marking to allow MUGA to be used by senior netball team

£2,261.00

£1,695.75

Conditional

75

Sport

Greenock Glenpark Harriers

Support towards track hire

£8,062.00

£3,750.00

76

Sport

Greenock Golf Club

Support towards cost of felling diseased larch trees following Scottish Plant Health Notice

£10,000.00

Unsuccessful

77

Sport

Greenock Juniors FC

Support towards pitch hire

£10,000.00

£3,000.00

Conditional

78

Sport

Greenock Wanderers

Support towards pitch hire for training

and games for all age groups and male and female teams

£10,000.00

£3,750.00

Conditional

79

Sport

Inverclyde Amateur Football Club

Support towards pitch hire

£9,910.50

£3,750.00

Conditional

80

Sport

Inverclyde Amateur Swimming Club

Support towards pool hire costs

£9,906.56

£7,429.92

Conditional

81

Sport

Inverclyde American Community Football Club

Support towards uniforms; equipment and pitch hire

£11,000.00

£3,000.00

Conditional

82

Sport

Inverclyde Athletics Club

Support towards stadium costs for

training, development camps and competitions

£10,000.00

£7,500.00

Conditional

83

Sport

Inverclyde Cricket Club

Support towards insurance; equipment; travel and training/park hire

£2,560.00

£1,920.00

84

Sport

Inverclyde Sport Council

Support for clubs/individuals; coach

education grants and child protection courses

£6,500.00

£1,500.00

Conditional

85

Sport

Morton in the Community

Support towards training pitch hire

£9,977.92

£7,483.44

86

Sport

Newark Angling Club

Funding to allow for subsidised travel for elderly & juniors

£1,500.00

£600.00

87

Sport

Ocean Youth Trust Scotland

Support towards cost of replacing the

windlass to Alba Venturer

£1,500.00

£1,125.00

88

Sport

Paisley & District Schools Football Association

Support towards league running costs - pitch hire, laundry, transport, medals and strips

£1,835.00

£900.00

89

Sport

Port Glasgow Boat Club

Support towards rental costs; repair to slipway/rails/grating and refurbishment of toilets

£16,568.00

£2,000.00

Conditional

90

Sport

Port Glasgow Boys Club

Support towards weatherproof kits for whole club; training courses and hire of

facilities for training/matches

£40,443.39

£7,500.00

Conditional

91

Sport

Port Glasgow Junior Football Club

Support towards hire of pitches for

training and match days

£10,960.00

£3,000.00

92

Sport

Port Glasgow Juniors Community Sports Club

Support towards hire of facilities for all teams

£10,000.00

£7,500.00

Conditional

93

Sport

Port Glasgow Victoria Boxing Club

Support towards running costs and training for coaches with Boxing Scotland

£9,380.00

£3,000.00

94

Sport

St Andrews Boys Club

Support towards hire of facilities for

training and match days

£10,000.00

£7,500.00

95

Sport

Team United

Support towards development of

existing/new activities for young people in Inverclyde with autism

£8,215.00

£3,000.00

Conditional

96

Uniformed Organisation

10th Greenock & District Scout Group

Support towards hire of St Columba's HS

£1,440.00

£1,080.00

97

Uniformed Organisation

32nd Greenock & District Scouts

Support towards running costs for Bank St premises

£4,000.00

£3,000.00

Conditional

98

Uniformed Organisation

47th/97th Greenock & District Scout Group

Support towards hire of Newark PS

£1,190.00

£892.50

99

Uniformed Organisation

73rd Greenock & District Scout Group

Support towards hire of All Saints PS

£1,400.00

£1,050.00

100

Uniformed Organisation

85th Greenock & District Scout Group

Support towards hire of Inverkip and Wemyss Bay PS

£3,360.00

£1,282.50

101

Uniformed Organisation

Girl Guiding Greenock Division

Support towards annual membership fees; hosting of the Renfrewshire County Thinking Day celebration and hire of facilities for Units meeting

£21,000.00

£8,500.00

102

Uniformed Organisation

Greenock & District Scout Council

Support towards running costs for Everton and HQ buildings

£10,000.00

£5,000.00

103

Uniformed Organisation

Greenock & District Sea Cadet Corps

Support towards annual running costs

£10,000.00

£3,750.00

104

Uniformed Organisation

Inverclyde & District Battalion The Boys Brigade

Support towards annual running costs and hall hire

£8,100.00

£6,850.00

Conditional

105

Voluntary

Children in Poverty Inverclyde

Support towards holiday breaks for families unemployed or working poverty

£7,746.00

£3,750.00

106

Voluntary

World Walking

Support towards server hosting costs, database backup

£2,900.00

£2,175.00

107

Youth

Friends4ever

Support towards hall hire - Westburn Parish Church; pantomime tickets and summer programme for 2024

£9,297.00

£3,750.00

Conditional

108

Youth

Inverclyde Youth for Christ

Support towards core running costs

£2,036.00

£1,125.00

Conditional

109

Youth

Youth Connections

Support towards Connect Youth Club for young people living with autism

£4,500.00

£3,375.00

110

Community

Park Farm Tenants and Residents Association

Support for visit to pantomime

£2,445.00

£1,500.00
| | |
| --- | --- |
| Total Requested | £923,220.61 |
| | |
| --- | --- |
| Total Awarded | £282,706.11 |