More information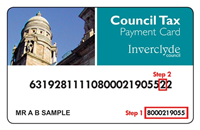 If you have a Council Tax payment card please enter the reference number by following the steps below using the sample card as a guide:
Input the ten digits reference number shown on the bottom right hand side of your card e.g. 8000219055
Next input your check digit (always second last number of the long number across the middle of the card) e.g. 63192811110800021905522
Lastly input the year in which you want to pay e.g. 8000219055221
This will then be displayed in the Reference box as 8000219055221, which indicates you're paying for Council Tax year 2021/2022 i.e 1st April 2021 to 31st March 2022. To pay any previous years Council Tax enter the last two digits as the year e.g 20 (1st April 2020 to 31st March 2021) or 19 (1st April 2019 to 31st March 2020)
To continue to the payment page please click on the Council Tax Payment link on this page.