Inverclyde Local Access Forum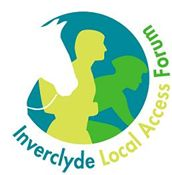 The Inverclyde Local Access Forum (ILAF) advises Inverclyde Council, and other individuals and organisations, on access rights; offers assistance in resolving access disputes; advises on the existence and delineation of rights of way; and assisted on drawing up the Core Paths Plan.
The Forum is made up of people from all areas of those interested in outdoor access including:
Landowners/managers
Walkers
Horse-riders
Cyclists
Community representatives
Agencies such as Inverclyde Council, Scotways and Clyde Muirshiel Regional Park are also represented.
The Local Access Forum meets approximately once every 12 weeks.
Members of ILAF, and their area of representation, include:
Liz Coyle (Inverclyde Community Health Partnership)
Ash Hamilton (Inverclyde Council)
Shona Morris (Cycling UK / Belles on Bikes)
Mike Holcombe (Clyde Muirshiel Regional Park)
Alex Wooler (On foot recreational users representative)
Giulia Canata (Equestrian representative)
John Watson (Scotways)
Lorna McCartney (Watersport representative)
Yvonne Christie (Community Council Representative)
Councillor John Crowther (Inverclyde Council Representative)
Ludovic Shaw-Stewart (Ardgowan Estate)
Kieran Wild (Sustrans)
Ian Crighton (Community Tracks)