British Pipe Band Championship
We are delighted to be hosting the British Pipe Band Championships, in conjunction with the Royal Scottish Pipe Band Association and look forward to welcoming over 100 bands to Inverclyde on Saturday 21st May at Battery Park.
It starts at 10am and will see bands competing throughout the day until the presentation and march past at approx 6pm.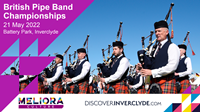 This event is part of the Meliora Festival taking place in Inverclyde this summer.
It's free for everyone to attend and will be a great family day out.
The Championships could see audiences of up to10,000 visitors attending and we are inviting food traders, craft or stall holders to apply for a pitch as well as invite bar suppliers to tender for the bar. Applications forms for this can be downloaded from the ride hand side of this page.
Please see right column for TEMPORARY RESTRICTION TO USE OF ROAD.
For more information please contact events@inverclyde.gov.uk