Our strategy for Tourism
Tourism development is led by Inverclyde Council working in conjunction with The Local Area Tourism Partnership.
The role of Inverclyde Council in Tourism development of the area is to:
Develop tourism projects
Work to attract and maximise economic benefit from cruise ship visits to the Greenock Ocean Terminal
Work with VisitScotland to maximise promotion of Inverclyde tourism opportunities
Provide discretionary financial assistance to tourism businesses and tourism development project groups
Gather information about the volume and value of tourism in Inverclyde and share with local partners and tourism providers
Work with the Local Area Tourism Partnership to deliver actions and outcomes identified in the Inverclyde Tourism Development Strategy 2016-2020
This Local Area Tourism Partnership brings together representatives of the Tourism industry to deliver the Inverclyde Tourism Strategy 2016 - 2020 and includes:
Discover inverclyde
Greenock Chamber of Commerce
Federation of Small Businesses
Inverclyde Tourist Group
Inverclyde Council
Visit Scotland
Clyde Muirshiel Regional Park
Local community groups
Representatives drawn from tourism businesses across inverclyde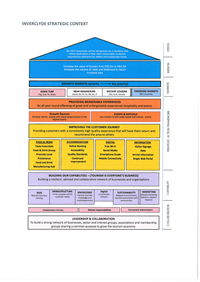 Tourism Scotland 2020 - A strategy for leadership and growth was launched by the Scottish Tourism Alliance in 2012 and can be downloaded from the link on this page. The Inverclyde Tourism Strategy has been developed in line with this strategy for Scotland.
Page last updated: 7 June 2019