Gourock
Gourock is the smallest of Inverclyde's three main towns which sits at the mouth of the Clyde and has good rail and ferry links. It is a popular destination for day visitors and is home to one of only two remaining heated salt water outdoor pools in Scotland.
The name Gourock comes from a Gaelic word for 'rounded hill '. As far back as 1494 it is recorded that James lV sailed from Gourock shore to quell the rebellious highland clans. In 1784 the lands were bought by Duncan Darroch who built Gourock House and the land around it was eventually gifted to the townspeople as Darroch Park which was later renamed Gourock Park.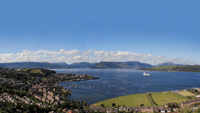 Gourock grew from a fishing village into a community involved in rope making, quarrying, herring curing, copper mining and finally into yacht building.
When the railway companies extended their lines to provide connections to the steamer services, the town and pier developed into a busy railway terminus. Its heyday as a seaside town was in the second half of the 19th century and the first half of the 20th. Evidence of its past as a seaside town is now disappearing as the town is regenerated to a very high standard. One landmark which remains is the open air waterfront swimming pool which was built in 1909 and rather strikingly was built to look like an ocean liner if viewed from the river. It has recently been refurbished and now boasts a new lesiure centre.
A fortified tower house, Castle Levan , dates from the 14th century and is said to be haunted! The views from the town are superb looking across the Clyde estuary to the hills of Argyll. .A few miles west of Gourock lies Cloch Point where there is a magnificent lighthouse dating from 1797 which was designed by Robert Smith and his son in-law Robert Stevenson . Interestingly, Robert was a relative of Robert Louis Stevenson , the Scottish novelist who wrote , Kidnapped and Treasure Island . Just above the town sits Granny Kempock's stone, a 6ft monolith which reputedly brought good catches to fishermen who touched it and good fortune to brides -to-be who walked around it six times.
The town boasts a wide variety of bars and restaurants and has excellent shopping facilities. Visitors can enjoy a game of golf at the nearby club, or a game of bowls at the two bowling clubs, in Barrhill Rd and Gourock Park. There are several interesting church buildings, all worth a visit.
Passenger ferries connect Gourock with Dunoon and Kilcreggan and a car ferry connects McInroy's Point with Hunter's Quay in Dunoon. Gourock railway station is located at the pierhead and provides regular services to Glasgow, Paisley and Wemyss Bay. The station has recently been refurbished to a very high standard and includes an exhibition of art and local WW2 information. Excellent local bus services connect the town to the surrounding area.
In May, the annual Gourock Highland Games take place in Battery Park at the east side of the town which is a lively event is not to be missed .
Visitors who arrive by car, are reminded to collect a parking disc from one of the shops on arrival, and display it appropriately.
Page last updated: 27 July 2017