Greenock
Originally a small fishing village, Greenock expanded rapidly due to transatlantic trade and growth in the shipbuilding industry and today is host to many cruise ships each year.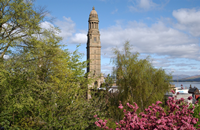 Originally a small fishing village, Greenock, by the mid 17th century, had an extensive herring trade and was granted burgh status in 1635. During the Industrial Revolution the harbour expanded rapidly due to transatlantic trade and growth in the shipbuilding industry. Paper, pottery, glass, barrel making and sugar refining also flourished in the town.
Greenock was shaped by heavy industries but decline in this sector meant the town had to change to meet the demands of the new electronic age and service sector industries. Greenock is now host to a variety of big name service industry providers including IBM, Toshiba, Royal Bank of Scotland Mortgage Centre, Amazon and EE who all have their UK or European bases.The harbourside areas have now been cleared to make way for modern developments like The Royal Bank of Scotland's National Mortgage Centre, a new four screen cinema complex and a state-of-the-art ice and water leisure complex.
A civic square has been created in front of the Custom House. This Grade A listed building was built in 1818, The nearby quay was the departure point for many Scottish emigrants during the 19th century, and it is now a regular stop for the world's last ocean going paddle steamer - The Waverley.
The main shopping area in Inverclyde is Greenock's Oak Mall. Although the development of Greenock has been dictated by industrial growth, the legacy of this has been a wealth of beautiful civic and domestic buildings, many of which are protected by listed building status. Cathcart Square and a large part of the west end of Greenock, including the McLean Museum and Watt Library, are also designated conservation areas to protect the historic buildings from development.
As well as impressive architecture, Greenock offers plenty to the outdoor enthusiast. The Battery Park boasts wide open spaces for a variety of leisure pursuits, and the Lyle Hill affords spectacular views over the Firth of Clyde and up to Ben Lomond. On the summit of the hill stands the Cross of Lorraine, a memorial to the Free French Armed Forces stationed in Greenock during the Second World War.
Greenock has excellent transport links. Clyde Port Authority operate one of the largest container terminals in Scotland which doubles as a busy Cruise ship terminal. The road links provide easy access to Glasgow International Airport (20 mins), Prestwick International Airport (45 mins), the main Caledonian McBrayne Ferry terminal in Gourock and regular freight and passenger Rail transport to Paisley (30 mins) and Glasgow (40mins).
Page last updated: 22 May 2015