Inverclyde Libraries
We are pleased to announce the reopening of some of our libraries for our new Connect and Collect service and limited PC use. More information below.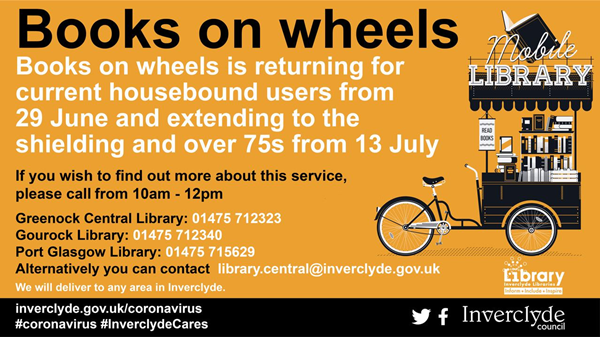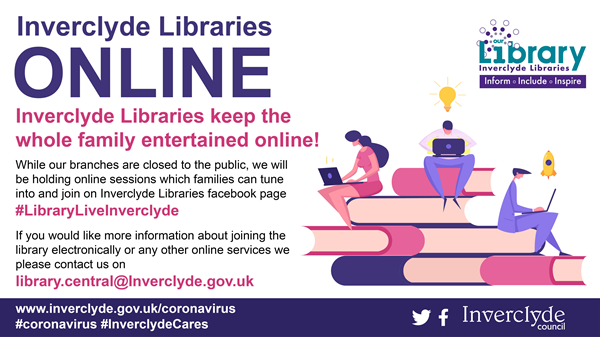 Limited reopening from 15 July
Greenock Central Library and the libraries in Port Glasgow and Gourock town centres reopened on Wednesday 15 July 2020, with limited access.
They will be open Monday-Friday from 10am-2pm for 'Connect and Collect' – books ordered online or over the phone for collection in-person – and limited computer use.
Browsing is not currently permitted.
You can continue to explore the wealth of e-resources we have available for research, learning, entertainment through Borrowbox , our library webpages and social media channels.
Please note that all fines accrued from Tuesday 17th March 2020 have been removed and no further fines will accrue on overdue items. All items currently on loan will automatically have the return date extended until libraries re-open.
Inverclyde Libraries' eBooks and eAudio books from Borrowbox can be accessed at the Library Online link on this page.
Keeping everyone safe
Perspex screens have been installed for the safety of our visitors and staff and we have hand sanitiser stations in each building. Please wear masks if possible and keep to the two-metre social-distancing guidelines whilst using our facilties.
Safety videos are available on the Inverclyde Libraries social media channels to demonstrate the changes and new safety measures before people visit.
Test and Protect
For the health and safety of our visitors and staff in Inverclyde libraries and Watt institution, we are recording the name and contact details of everyone who enters.
This information will be used to enable NHS Scotland and statutory partners to contact you should you have been in the premises around the same time as someone who has tested positive for coronavirus.
Contacting people who might have been exposed to the virus is an important step in stopping the spread.
An example information poster and our relevant privacy notice regarding Test and Protect can be found in related documents linked on this page.
Further local updates and health advice can be accessed at https://www.inverclyde.gov.uk/coronavirus
Additional advice on Health and Wellbeing at this time can also be found by following the external links on this this page.


Enquiries can be directed to: Library.Central@inverclyde.gov.uk or via Facebook Messenger.
Both are linked on this page.
Page last updated: 11 August 2020