Inverclyde Libraries
Inverclyde Libraries offer a wide range of services to anyone who visits, lives or works in Inverclyde.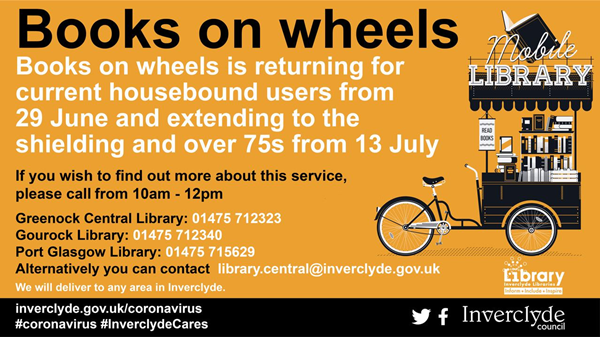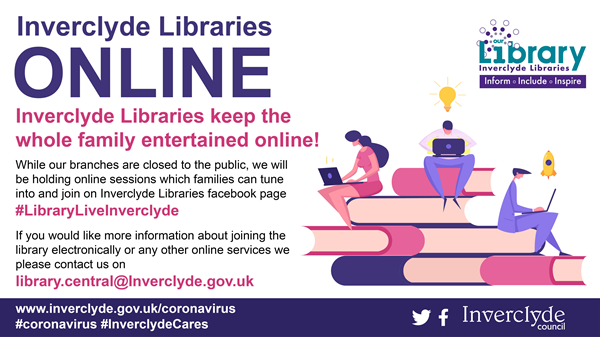 Following the legal requirements set out on The Health Protection (Coronavirus) (Restrictions) (Scotland) Regulations 2020 as well as guidance or advice to the public issued by the Scottish Government, we have closed all our buildings to the public.
We are now on the route map to Recovery as laid out by the Scottish Government https://www.gov.scot/publications/coronavirus-covid-19-framework-decision-making-scotlands-route-map-through-out-crisis/ and as per the guidelines we encourage you to explore the wealth of e-resources available for research, learning, entertainment through Borrowbox , our library webpages and social media channels.
Each phase is dependent on the success of the phase before. Libraries are likely to re-open in Phase 3 but we do not have a date for that yet and we do not know which services will be available at that time. We will continue to monitor Government advice, and when the situation improves, we will provide updates on our website and associated social media channels.
All our libraries and museums staff are working from home.
Updates and health advice can be accessed at https://www.inverclyde.gov.uk/coronavirus
Further advice on Health and Wellbeing at this time can also be found by following the external links on this this page.
All fines accrued from Tuesday 17th March 2020 have been removed and no further fines will accrue on overdue items. All items currently on loan will automatically have the return date extended until libraries re-open.
Inverclyde Libraries' eBooks and eAudio books from Borrowbox can be accessed at the Library Online link on this page.

Enquiries can be directed to: Library.Central@inverclyde.gov.uk or via Facebook Messenger. Both are linked on this page.
Page last updated: 9 July 2020