Book of the Month
November 2022
Small Things Like These by Claire Keegan
Set in a small Irish town and following a coal and timber merchant confronted by the past, this magnetic tale of determination and quiet heroism from the author of Foster is as hopeful as it is haunting.
It is 1985, in an Irish town. During the weeks leading up to Christmas, Bill Furlong, a coal and timber merchant, faces into his busiest season. As he does the rounds, he feels the past rising up to meet him - and encounters the complicit silences of a people controlled by the Church.
The long-awaited new work from the author of Foster, Small Things Like These is an unforgettable story of hope, quiet heroism and tenderness.
Text taken from:
https://www.waterstones.com/book/small-things-like-these/claire-keegan/9780571368709
September 2022
A Song of Comfortable Chairs by Alexander McCall Smith.
Grace Makutsi's husband, Phuti, is in a bind. An international firm is attempting to undercut his prices in the office furniture market. Phuti has always been concerned with quality and comfort, but this new firm seems interested only in profits. To make matters worse, they have a slick new advertising campaign that seems hard to beat. Nonetheless with Mma Ramotswe's help, Phuti comes up with a campaign that may just do the trick.
Meanwhile, Mma Makutsi is approached by an old friend who has a troubled son. Grace and Phuti agree to lend a hand, but the boy proves difficult to reach, and the situation is more than they can handle on their own. It will require not only all of their patience and dedication, but also the help of Mma Ramotswe and the formidable Mma Potokwani in order to help the child.
Faced with more than her fair share of domestic problems, Mma Makutsi deals with it all with her usual grace. That, along with the kindness, generosity, and good sense that the No. 1 Ladies' Detective Agency is known for, assure us that in the end, all these matters will be set right.

Text taken from:
https://www.hachette.co.uk/titles/alexander-mccall-smith/a-song-of-comfortable-chairs/9781408714478/


August 2022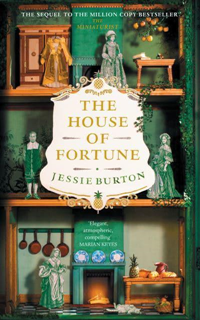 The House of Fortune by Jessie Burton
The House of Fortune is the sequel to Jessie Burton's million copy bestselling The Miniaturist.
Set in the golden city of Amsterdam in 1705, it is a story of fate and ambition, secrets and dreams, and one young woman's determination to rule her own destiny.

Thea Brandt is turning eighteen, and is ready to welcome adulthood with open arms. At the theatre, Walter, the love of her life, awaits her, but at home in the house on the Herengracht, winter has set in - her father Otto and Aunt Nella argue endlessly, and the Brandt family are selling their furniture in order to eat. On Thea's birthday, also the day that her mother Marin died, the secrets from the past begin to overwhelm the present.

Nella is desperate to save the family and maintain appearances, to find Thea a husband who will guarantee her future, and when they receive an invitation to Amsterdam's most exclusive ball, she is overjoyed - perhaps this will set their fortunes straight. And indeed, the ball does set things spinning: new figures enter their life, promising new futures. But their fates are still unclear, and when Nella feels a strange prickling sensation on the back of her neck, she wonders if the miniaturist has returned for her...
Text taken from:
https://www.waterstones.com/book/the-house-of-fortune/jessie-burton/9781509886081
July 2022
Lying Beside You by Michael Robotham

Twenty years ago, Cyrus Haven's family was murdered and only he and his brother survived. Cyrus because he hid. Elias because he was the killer.
Now Elias is being released from a secure psychiatric hospital and Cyrus, a forensic psychologist, must decide if he can forgive the man who destroyed his childhood.
As he prepares for the homecoming, Cyrus is called to a crime scene in Nottingham. A man is dead and his daughter, Maya, is missing. Then a second woman is abducted. The only witness is Evie Cormac, a troubled teenager with a gift for knowing when people are lying.
Both missing women have dark secrets that Cyrus must unravel to find them - and he and Evie know how the past can come back to haunt you . . .

Text and image taken from:
https://www.waterstones.com/book/lying-beside-you/michael-robotham/9780751581577
June 2022
The Botanist by M.W. Craven
Written with characteristic hard-boiled wit, the fifth full-length investigation for DS Washington Poe combines a locked room mystery where the chief suspect is one of Poe's colleagues with a poisoner targeting the rich and famous.
'I swear I'm one bad mood away from calling it black magic and going home...'
Detective Sergeant Washington Poe can count on one hand the number of friends he has. And he'd still have his thumb left. There's the insanely brilliant, guilelessly innocent civilian analyst, Tilly Bradshaw of course. He's known his beleaguered boss, Detective Inspector Stephanie Flynn for years as he has his nearest neighbour, full-time shepherd/part-time dog sitter, Victoria.
And then there's Estelle Doyle. It's true the caustic pathologist has never walked down the sunny side of the street but this time has she gone too far? Shot twice in the head, her father's murder appears to be an open and shut case. Estelle has firearms discharge residue on her hands, and, in a house surrounded by fresh snow, hers are the only footprints going in. Since her arrest she's only said three words: 'Tell Washington Poe.'
Meanwhile, a poisoner the press have dubbed the Botanist is sending high profile celebrities poems and pressed flowers. The killer seems to be able to walk through walls and, despite the advance notice he gives his victims, and regardless of the security measures the police take, he seems to be able to kill with impunity.
For a man who hates locked room mysteries, this is going to be the longest week of Washington Poe's life...
Text and image taken from: https://www.waterstones.com/book/the-botanist/m-w-craven/9780349135540
May 2022
Abandoned in Death by J. D. Robb
In this brand new thriller in the Sunday Times bestselling series, Lieutenant Eve Dallas races to untangle a twisted family history while a hostage's life hangs in the balance.
Say goodnight, baby darling.
Three young women have gone missing. They're all pretty, mid-twenties - someone clearly has a type. But no one links their disappearances until the first - Lauren Elder - is found lying peacefully on a bench in a children's playground. She is neatly dressed with a wide black velvet ribbon covering where her neck has been precisely slit. Her hands are folded over a childish sign on which is written in black crayon - BAD MOMMY.
Lt Eve Dallas and her team are brought in to investigate Lauren's murder and uncover the links to the other two women. Can they find out enough about the missing women and unmask their captor before they kill again...?
Text and image from:
https://www.amazon.co.uk/Untitled-Robb-54-Death-J/dp/0349430233/
April 2022
Echo of the Dead by Alex Gray
Whether you've read them all or whether you're discovering Alex Gray's bestselling series for the first time, ECHO OF THE DEAD will have you gripped until the final page.
After a stressful winter, DSI William Lorimer is enjoying some time away from Glasgow. He and his new friend, Daniel Kohi, have retreated to the wilds of the Scottish Highlands to unwind. But what awaits them is far from a holiday.
Despite its troubled history, the mountain village of Glencoe is now a popular resort, famed for its close-knit community, its breath-taking scenery and the warm welcome it offers weary travellers. So it's particularly shocking when two bodies are discovered in quick succession on the nearby peaks . . .
With a potential serial killer on the loose, Lorimer's Major Incidents Team are drafted in from Glasgow. It's clear that a dark secret lurks beneath the wild beauty of this place. But will Lorimer manage to root it out before the killer strikes again?

Text and image from:
https://www.hachette.co.uk/titles/alex-gray/echo-of-the-dead/9780751583281/
March 2022
Again, Rachel by Marian Keyes
The No. 1 Sunday Times Bestseller
Back in the long ago 90s, Rachel Walsh was a mess. But a spell in rehab transformed everything. Life became very good, very quickly. These days, Rachel has love, family, a great job as an addiction counsellor, she even gardens. Her only bad habit is a fondness for expensive trainers. But with the sudden reappearance of a man she'd once loved, her life wobbles. She'd thought she was settled. Fixed forever. Is she about to discover that no matter what our age, everything can change?
Text and image from:
https://www.penguin.co.uk/books/315566/again--rachel/9780241441121.html
February 2022
Little Wing by Freya North

Little Wing is the powerful story of two families over three generations.
In the 1960s, a pregnant 16-year-old is banished to one of the remotest parts of the UK. Years later, Nell and Dougie are both at critical moments in their lives when their paths cross. Between Camden, Colchester and the Outer Hebrides, the three story lines collide when secrets are uncovered and answers sought.
Little Wing is a novel about resilience, forgiveness and the true meaning of family, about finding one's place in the world and discovering how we all belong somewhere and to someone.
Text and image from:
https://www.lovereading.co.uk/book/22333/Little-Wing-by-Freya-North.html
January 2022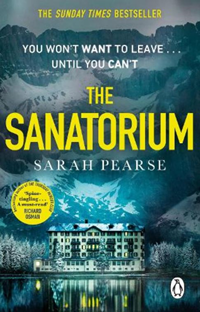 The Sanatorium by Sarah Pearse
An imposing, isolated hotel, high up in the Swiss Alps, is the last place Elin Warner wants to be. But she's taken time off from her job as a detective, so when she receives an invitation out of the blue to celebrate her estranged brother's recent engagement, she has no choice but to accept.
Arriving in the midst of a threatening storm, Elin immediately feels on edge. Though it's beautiful, something about the hotel, recently converted from an abandoned sanatorium, makes her nervous - as does her brother, Isaac.
And when they wake the following morning to discover his fiancée Laure has vanished without a trace, Elin's unease grows. With the storm cutting off access to and from the hotel, the longer Laure stays missing, the more the remaining guests start to panic.
But no-one has realized yet that another woman has gone missing. And she's the only one who could have warned them just how much danger they're all in...
Text and image from:
https://www.waterstones.com/book/the-sanatorium/sarah-pearse/9780552177313