Book of the Month
September 2019
The Turn of the Key by Ruth Ware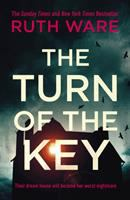 Rowan, the narrator of Ruth Ware's spooky, tense thriller about an apparent haunting in the Highlands, starts her story with a bundle of letters to a barrister. Written from prison, they plead with him to take her on as a client. "I guess it comes down to this in the end. I am the nanny in the Elincourt case, Mr Wrexham. And I didn't kill that child."
The Turn of the Key then shifts back in time and Rowan tells her story from her discovery of an advert looking for a "practical, unflappable" nanny to look after four children in the wilds of Scotland. She learns that the four previous incumbents have resigned in the past 14 months, but takes the job anyway, despite the discovery of an ominous note left by her predecessor and the desperate pleading of one of her new charges to stay away because "the ghosts wouldn't like it". Left on her own with the children almost from the start, things quickly go from bad to worse – creaking footsteps at night, lost keys, a walled garden filled with poisonous plants, a history of hauntings.
Ware tells a cracking tale and, as in her breakout novel In a Dark, Dark Wood, the house itself plays a hugely menacing part in proceedings.
Taken from https://www.theguardian.com/books/2019/aug/11/turn-of-the-key-platform-seven-perfect-wife-how-the-dead-speak-thrillers-of-the-month
A Woman of Firsts: The midwife who built a hospital and changed the world by Edna Adan Ismail, Wendy Holden (Contributor)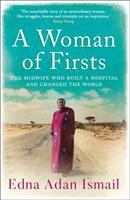 Imprisonment. Mutilation. Persecution.
Edna Adan Ismail endured it all – for the women of Africa.
Edna saw first-hand how poor healthcare, lack of education and ancient superstitions had devastating effects on Somaliland's people, especially its women. When she suffered the trauma of FGM herself as a young girl at the bidding of her mother, Edna's determination was set.
The first midwife to practise in Somaliland, Edna became a formidable teacher and campaigner for women's health. As her country was swept up in its bloody fight for independence, Edna rose to become its First Lady and first female cabinet minister.
She built her own hospital, brick by brick, training future generations in what has been hailed as one of the Horn of Africa's finest university hospitals
This is Edna's truly remarkable story.
Taken from https://www.harpercollins.co.uk/9780008305345/a-woman-of-firsts-the-midwife-who-built-a-hospital-and-changed-the-world/
August 2019
Big Sky by Kate Atkinson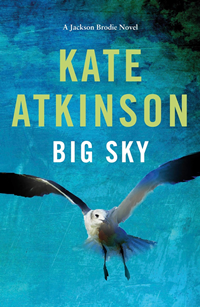 Jackson Brodie has relocated to a quiet seaside village in North Yorkshire, in the occasional company of his recalcitrant teenage son Nathan and ageing Labrador Dido, both at the discretion of his former partner Julia. It's a picturesque setting, but there's something darker lurking behind the scenes.
Jackson's current job, gathering proof of an unfaithful husband for his suspicious wife, seems straightforward, but a chance encounter with a desperate man on a crumbling cliff leads him into a sinister network—and back into the path of someone from his past. Old secrets and new lies intersect in this breathtaking new novel, both sharply funny and achingly sad, by one of the most dazzling and surprising writers at work today.
Taken from https://www.penguin.co.uk/books/108/1087462/big-sky/9780857526106.html
On Chapel Sands: My Mother and Other Missing Persons by Laura Cumming
In the autumn of 1929, a small child was kidnapped from a Lincolnshire beach. Five agonising days went by before she was found in a nearby village. The child remembered nothing of these events and nobody ever spoke of them at home. It was another fifty years before she even learned of the kidnap.
The girl became an artist and had a daughter, art writer Laura Cumming. Cumming grew up enthralled by her mother's strange tales of life in a seaside hamlet of the 1930s, and of the secrets and lies perpetuated by a whole community. So many puzzles remained to be solved. Cumming began with a few criss-crossing lives in this fraction of English coast – the postman, the grocer, the elusive baker – but soon her search spread right out across the globe as she discovered just how many lives were affected by what happened that day on the beach – including her own.
On Chapel Sands is a book of mystery and memoir. Two narratives run through it: the mother's childhood tale; and Cumming's own pursuit of the truth. Humble objects light up the story: A pie dish, a carved box, an old Vick's jar. Letters, tickets, recipe books, even the particular slant of a copperplate hand give vital clues. And pictures of all kinds, from paintings to photographs, open up like doors to the truth. Above all, Cumming discovers how to look more closely at the family album – with its curious gaps and missing persons – finding crucial answers, captured in plain sight at the click of a shutter.
Taken from https://www.penguin.co.uk/books/111/1115783/on-chapel-sands/9781784742478.html
July 2019
My Life as a Rat by Joyce Carol Oates
Which should prevail: loyalty to family or loyalty to the truth? Is telling the truth ever a mistake and is lying for one's family ever justified? Can one do the right thing, but bitterly regret it?
My Life as a Rat follows Violet Rue Kerrigan, a young woman who looks back upon her life in exile from her family following her testimony, at age twelve, concerning what she knew to be the racist murder of an African-American boy by her older brothers. In a succession of vividly recalled episodes, Violet contemplates the circumstances of her life as the initially beloved youngest child of seven Kerrigan children who inadvertently "informs" on her brothers, setting into motion their arrests and convictions and her own long estrangement.
Arresting and poignant, My Life as a Rat traces a life of banishment from a family—banishment from parents, siblings, and the Church—that forces Violet to discover her own identity, to break the powerful spell of family, and to emerge from her long exile as a "rat" into a transformed life.
Taken from https://www.harpercollins.com/9780062899835/my-life-as-a-rat/
The Beekeeper of Sinjar: Rescuing the Stolen Women of Iraq by Dunya Mikhail
In The Beekeeper of Sinjar, the acclaimed poet and journalist Dunya Mikhail tells the harrow
ing stories of women from across Iraq who have managed to escape the clutches of ISIS.
Since 2014, ISIS has been persecuting the Yazidi people, killing or enslaving those who won't convert to Islam. These women have lost their families and loved ones, along with everything they've ever known. Dunya Mikhail weaves together the women's tales of endurance and near-impossible escape with the story of her own exile and her dreams for the future of Iraq.
In the midst of ISIS's reign of terror and hatred, an unlikely hero has emerged: The Beekeeper. Once a trader selling his mountain honey across the region, when ISIS came to Sinjar he turned his knowledge of the local terrain to another, more dangerous use. Along with a secret network of transporters, helpers, and former bootleggers, Abdullah Shrem smuggles brutalised Yazidi women to safety through the war-torn landscapes of Iraq, Syria, and Eastern Turkey.
This powerful work of literary non-fiction offers a counterpoint to ISIS's genocidal extremism: Hope, as ordinary people risk torture and death to save the lives of others.
Taken from https://serpentstail.com/the-beekeeper-of-sinjar.html
Under 5s
I Am a Tiger by Karl Newson and illustrated by Ross Collins
A hilarious and original story about a little mouse with big ideas!
The bold little mouse declares "I am a tiger." and manages to convince a raccoon, a fox, a snake and a bird not only that this is true, but that they are not what they think they are. When a real tiger turns up, can the persuasive and fearless little rodent manage to persuade the tiger that he is a mouse!
With vibrant artwork by award-winning illustrator Ross Collins, and delightful characters created by rising star Karl Newson, I am a Tiger is a story that will amuse and entertain everyone, from the smallest mouse to the biggest tiger.
5-8 Years
The Aliens are Coming! by Tracey Corderoy and illustrated by Steven Lenton
(Shifty McGifty and Slippery Sam Series)
Summer is in the air, the sun is shining bright – and business is hotting up for our favourite doggy detectives. So join them as they tackle some baffling beachside cases in three more rib-tickling stories.
For starters, someone is cheating in the sandcastle contest. And there's something FISHY about the new seaside cafe, too. But it's the alien invasion that REALLY makes them lose their cool. Phew! Anyone for an iced bun?
9-12 Years
The World's Worst Teachers by David Walliams
Think your teachers are bad? Wait until you meet this lot. These ten tales of the world's most splendidly sinister teachers will have you running for the school gates. Dr Dread teaches science and is half man, half monster. Watch out for the ghastly Miss Seethe. She is ALWAYS furious - and she's on a detention rampage. And as for Pent, he's a teacher with a real difference. He is bone-shakingly terrified of children
12+
Siege by Chris Ryan
(Special Forces Cadets Bk.1)
Tough enough? Smart enough? Max will require all his skills just to stay alive as a Special Forces Cadet...
A top-secret government programme needs a crack team of undercover military operators. They must have awesome levels of determination, endurance and fitness. They must be able to think on their feet. The recruits undergo the most rigorous and testing selection process the modern military can devise. And in order to operate in circumstances where adult forces would be compromised, the recruits must be under sixteen. Only a few are tough enough and smart enough to make it . . . And once out in the field, they will require all their skills just to stay alive. Which is what happens when Max Silver, Abby Asher, Lukas Channing and Sami Hakim are sent into an armed siege in an inner-city school
June 2019
A Boy and His Dog at the End of the World by C. A. Fletcher
My name's Griz.
I've never been to school, I've never had friends; in my whole life I've not met enough people to play a game of football. My parents told me how crowded the world used to be, before all the people went away, but we were never lonely on our remote island. We had each other, and our dogs.
Then the thief came.
He told stories of the deserted towns and cities beyond our horizons. I liked him – until I woke to find he had stolen my dog. So I chased him out into the ruins of the world.
I just want to get my dog back, but I found more than I ever imagined was possible. More about how the world ended. More about what my family's real story is. More about what really matters.
A Boy and his Dog at the End of the World is the most moving story you'll read this year. Perfect for readers of Life of Pi, The Girl with all the Gifts or Station Eleven – Griz's tale mixes sadness and hope in one unforgettable character's quest amid the remnants of our fragile civilisation.
Taken from https://www.littlebrown.co.uk/titles/c-a-fletcher/a-boy-and-his-dog-at-the-end-of-the-world/9780356510903/
Gentleman Jack: The Real Anne Lister by Anne Choma
'There are more ways than one of being happy… I am living proof of this.'
Anne Lister was remarkable. Fearless, charismatic and determined to explore her lesbian sexuality, she forged her own path in a society that had no language to define her. She was a landowner, an industrialist and a prolific diarist, whose output has secured her legacy as one of the most fascinating figures of the 19th century.
Gentleman Jack: The Real Anne Lister follows Anne from her crumbling ancestral home in Yorkshire to the glittering courts of Denmark as she resolves to put past heartbreak behind her and find herself a wife. This book introduces the real Gentleman Jack, featuring unpublished journal extracts decrypted for the first time by series creator Sally Wainwright and writer Anne Choma.
Taken from https://www.penguin.co.uk/books/111/1114926/gentleman-jack/9781785944048.html
May 2019
The Golden Tresses of the Dead by Alan Bradley
Although it is autumn in the small English town of Bishop's Lacey, the chapel is decked with exotic flowers. Yes, Flavia de Luce's sister Ophelia is at last getting hitched, like a mule to a wagon.
"A church is a wonderful place for a wedding," muses Flavia, "surrounded as it is by the legions of the dead, whose listening bones bear silent witness to every promise made at the altar." Flavia is not your normal twelve-year-old girl. An expert in the chemical nature of poisons, she has solved many mysteries, sharpening her considerable detection skills to the point where she had little choice but to turn professional.
So, Flavia and dependable Dogger, estate gardener and sounding board extraordinaire, set up shop at the once-grand mansion of Buckshaw, eager to serve—not so simple an endeavor with her odious little moon-faced cousin, Undine, constantly underfoot, but Flavia and Dogger persevere. Little does she know that their first case will be extremely close to home, beginning with an unwelcome discovery in Ophelia's wedding cake: a human finger.
Taken from: https://www.penguinrandomhouse.com/books/221591/the-golden-tresses-of-the-dead-by-alan-bradley/9780345540027/
Mindful Thoughts for Runners: Freedom on the Trail by Tessa Wardley
Running can be a spiritually enriching activity, as well as a physical one—reconnecting us to our breath, our bodies, and the natural world around us with every steady step. Mindful Thoughts for Runners explores the ways in which running offers us an opportunity to deepen our levels of awareness, lifting our souls as well as our endorphin levels!
In this beautifully illustrated little book, author Tessa Wardley meditates on the holistic nature of running, through 25 focused reflections offering meaningful insights that every runner will value and remember.
Freedom, joy, creativity, and pain are all paced alongside appreciating the upside of a hill, the anatomy of running and its addictive nature—this book will appeal to barefoot, parkour, track and free runners alike.
Taken from: https://www.amazon.co.uk/Mindful-Thoughts-Runners-Freedom-trail/dp/1782407642
April 2019
Adult Fiction
The Chestnut Man by Soren Sveistrup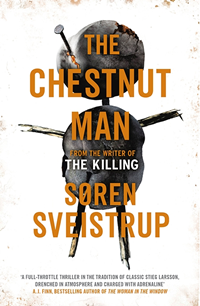 The gripping debut novel from the creator and writer of the hit TV show The Killing.
One blustery October morning in a quiet Copenhagen suburb, the police make a terrible discovery: A young woman is found brutally murdered with one of her hands missing, above her hangs a small doll made of chestnuts.
Ambitious young detective Naia Thulin is assigned the case. Her partner, Mark Hess, is a burned-out investigator who's just been kicked out of Europol. They soon discover a mysterious piece of evidence on the chestnut man - evidence connecting it to a girl who went missing a year earlier and is presumed dead; the daughter of politician Rosa Hartung. However, the man who confessed to her murder is already behind bars, and the case long since closed.
Soon afterwards, a second woman is found murdered, along with another chestnut man. Thulin and Hess suspect that there's a connection between the Hartung case and the murdered women, but what is it?
Thulin and Hess are racing against the clock, because it's clear that the killer is on a mission that is far from over . . .
Taken from: https://www.penguin.co.uk/books/311/311750/the-chestnut-man/9780241372104.html
Adult Non-fiction
We Are Displaced: My Journey and Stories from Refugee Girls Around the World by Malala Yousafzai, with Liz Welch
Nobel Peace Prize-winner Malala Yousafzai will start with her own story of displacement as an Internally Displaced Person to show what it means to lose your home, your community, and the only world you've ever known. She will also share the personal stories of some of the girls she has met on her various journeys to refugee camps and the cities where refugee girls and their families have settled.
In a time of immigration crises, war, and border conflicts, We Are Displaced is a reminder from one of the world's most famous people who experienced displacement that everyone deserves universal human rights and a home.
Taken from: https://www.orionbooks.co.uk/books/detail.page?isbn=9781474610063
Under-5s
Catch that Egg! by Lucy Rowland and Anna Chernyshova.
Floppit's farmyard friends have had enough of his enormous bunny feet. 'Stop it, Floppit!' they sigh, every time he comes bouncing by. But his big clumsy feet might just save the day when Chicken's egg runs away. Help Floppit the big-footed bunny 'catch that egg' in this fun farmyard egg chase.
5-8 Years
It Wasn't Me by Joanna Nadin
If a microwave explodes or there are bubbles all over the bathroom floor, it's bound to have been because of Alfie Braithwaite. Only Alfie swears that it's all the fault of Dave, the terrible gremlin that lives in his sock drawer. But one day Dave really does appear and starts to wreak more havoc than even Alfie could have imagined! Will Alfie catch Dave? And will Alfie's parents ever believe that it really wasn't him?
9-12 Years
Agent Without Licence by Andrew Lane
(AWOL Series Bk. 1)
Kieron and his friend Sam are shocked to see a man kidnapped in a Newcastle shopping centre right in front of their eyes. The boys quickly realise that the kidnapped man left something behind in the scuffle - an earpiece and glasses. Kieron puts them on and realises he can see not what is front of him, but a busy, tourist city, somewhere very hot - in Mumbai. Kieron has accidentally stumbled upon the undercover world of Rebecca 'Bex' Wilson - a freelance agent working for the British Secret Intelligence Service. And without her handler Bradley (the man who was kidnapped), Bex is in trouble. She doesn't know who of her usual contacts she can trust, and like it or not, she is going to have to use teenage Kieron to get her out of danger. Before Kieron and Sam know it, they are part of a mission to stop a weapon of mass destruction from falling into the wrong hands.
12+
Children of Blood and Bone by Tomi Adeyemi
(Extinction Trials Series Bk.1)
They killed my mother.
They took our magic.
They tried to bury us.
Now we rise.
Zélie remembers when the soil of Orïsha hummed with magic. When different clans ruled – Burners igniting flames, Tiders beckoning waves, and Zélie's Reaper mother summoning forth souls.
But everything changed the night magic disappeared. Under the orders of a ruthless king, anyone with powers was targeted and killed, leaving Zélie without a mother and her people without hope. Only a few people remain with the power to use magic, and they must remain hidden.
Zélie is one such person. Now she has a chance to bring back magic to her people and strike against the monarchy. With the help of a rogue princess, Zélie must learn to harness her powers and outrun the crown prince, who is hell-bent on eradicating magic for good.
Danger lurks in Orïsha, where strange creatures prowl, and vengeful spirits wait in the waters. Yet the greatest danger may be Zélie herself as she struggles to come to terms with the strength of her magic – and her growing feelings for an enemy.
Page last updated: 28 August 2019