Book of the Month
May 2022
Abandoned in Death by J. D. Robb
In this brand new thriller in the Sunday Times bestselling series, Lieutenant Eve Dallas races to untangle a twisted family history while a hostage's life hangs in the balance.
Say goodnight, baby darling.
Three young women have gone missing. They're all pretty, mid-twenties - someone clearly has a type. But no one links their disappearances until the first - Lauren Elder - is found lying peacefully on a bench in a children's playground. She is neatly dressed with a wide black velvet ribbon covering where her neck has been precisely slit. Her hands are folded over a childish sign on which is written in black crayon - BAD MOMMY.
Lt Eve Dallas and her team are brought in to investigate Lauren's murder and uncover the links to the other two women. Can they find out enough about the missing women and unmask their captor before they kill again...?
Text and image from:
https://www.amazon.co.uk/Untitled-Robb-54-Death-J/dp/0349430233/
April 2022
Echo of the Dead by Alex Gray
Whether you've read them all or whether you're discovering Alex Gray's bestselling series for the first time, ECHO OF THE DEAD will have you gripped until the final page.
After a stressful winter, DSI William Lorimer is enjoying some time away from Glasgow. He and his new friend, Daniel Kohi, have retreated to the wilds of the Scottish Highlands to unwind. But what awaits them is far from a holiday.
Despite its troubled history, the mountain village of Glencoe is now a popular resort, famed for its close-knit community, its breath-taking scenery and the warm welcome it offers weary travellers. So it's particularly shocking when two bodies are discovered in quick succession on the nearby peaks . . .
With a potential serial killer on the loose, Lorimer's Major Incidents Team are drafted in from Glasgow. It's clear that a dark secret lurks beneath the wild beauty of this place. But will Lorimer manage to root it out before the killer strikes again?

Text and image from:
https://www.hachette.co.uk/titles/alex-gray/echo-of-the-dead/9780751583281/
March 2022
Again, Rachel by Marian Keyes
The No. 1 Sunday Times Bestseller
Back in the long ago 90s, Rachel Walsh was a mess. But a spell in rehab transformed everything. Life became very good, very quickly. These days, Rachel has love, family, a great job as an addiction counsellor, she even gardens. Her only bad habit is a fondness for expensive trainers. But with the sudden reappearance of a man she'd once loved, her life wobbles. She'd thought she was settled. Fixed forever. Is she about to discover that no matter what our age, everything can change?
Text and image from:
https://www.penguin.co.uk/books/315566/again--rachel/9780241441121.html
February 2022
Little Wing by Freya North

Little Wing is the powerful story of two families over three generations.
In the 1960s, a pregnant 16-year-old is banished to one of the remotest parts of the UK. Years later, Nell and Dougie are both at critical moments in their lives when their paths cross. Between Camden, Colchester and the Outer Hebrides, the three story lines collide when secrets are uncovered and answers sought.
Little Wing is a novel about resilience, forgiveness and the true meaning of family, about finding one's place in the world and discovering how we all belong somewhere and to someone.
Text and image from:
https://www.lovereading.co.uk/book/22333/Little-Wing-by-Freya-North.html
January 2022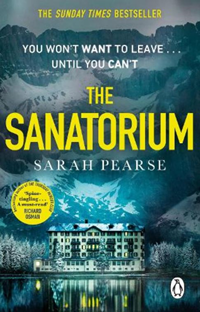 The Sanatorium by Sarah Pearse
An imposing, isolated hotel, high up in the Swiss Alps, is the last place Elin Warner wants to be. But she's taken time off from her job as a detective, so when she receives an invitation out of the blue to celebrate her estranged brother's recent engagement, she has no choice but to accept.
Arriving in the midst of a threatening storm, Elin immediately feels on edge. Though it's beautiful, something about the hotel, recently converted from an abandoned sanatorium, makes her nervous - as does her brother, Isaac.
And when they wake the following morning to discover his fiancée Laure has vanished without a trace, Elin's unease grows. With the storm cutting off access to and from the hotel, the longer Laure stays missing, the more the remaining guests start to panic.
But no-one has realized yet that another woman has gone missing. And she's the only one who could have warned them just how much danger they're all in...
Text and image from:
https://www.waterstones.com/book/the-sanatorium/sarah-pearse/9780552177313
December 2021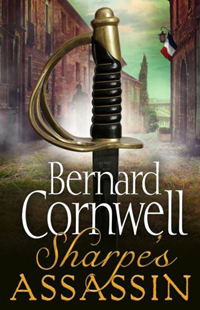 Sharpe's Assassin by Bernard Cornwell
SHARPE IS BACK.
This Christmas, global bestseller Bernard Cornwell returns with his iconic hero, Richard Sharpe.
If any man can do the impossible it's Richard Sharpe…
Lieutenant-Colonel Sharpe is a man with a reputation. Born in the gutter, raised a foundling, he joined the army twenty-one years ago, and it's been his home ever since. He's a loose cannon, but his unconventional methods make him a valuable weapon.
So when, the dust still settling after the Battle of Waterloo, the Duke of Wellington needs a favour, he turns to Sharpe. For Wellington knows that the end of one war is only the beginning of another. Napoleon's army may be defeated, but another enemy lies waiting in the shadows – a secretive group of fanatical revolutionaries hell-bent on revenge.
Sharpe is dispatched to a new battleground: the maze of Paris streets where lines blur between friend and foe. And in search of a spy, he will have to defeat a lethal assassin determined to kill his target or die trying . . .
Sharpe's Assassin is the brand new novel in the bestselling historical series that has sold over 20 million copies worldwide.
Text and image taken from:
https://harpercollins.co.uk/products/sharpes-assassin-the-sharpe-series-book-21-bernard-cornwell
November 2021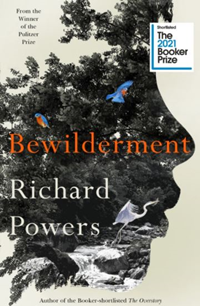 Bewilderment by Richard Powers
Theo Byrne is a promising young scientist who has found a way to search for life on other planets dozens of light years away. He is also the widowed father of a most unusual nine-year-old. His son Robin is funny, loving and filled with plans. He thinks and feels deeply, adores animals and can spend hours painting elaborate pictures. He is also on the verge of being expelled from school for smashing his friend's face with a thermos.
What can a father do, when the only solution offered to his rare and troubled boy is to put him on psychoactive drugs? What can he say when his boy comes to him wanting an explanation for a world that is clearly in love with its own destruction? The only thing for it is to take the boy to other planets, all while fostering his son's desperate attempt to save this one.
At the heart of Bewilderment lies the question: How can we tell our children the truth about this beautiful, imperiled planet?
Text and image taken from https://www.penguin.co.uk/books/144/1444607/bewilderment/9781785152634.html
October 2021
The Vanishing Half by Brit Bennett
This book has been shortlisted for multiple awards over the past year, including the Orwell Prize for Political Fiction, the Women's Prize for Fiction, Waterstones Book of the Year 2020, the British Book Awards Fiction Book of the Year 2021 and Waterstones Fiction Book of the Month for May 2021.
The Vignes twin sisters will always be identical. But after growing up together in a small, southern black community and running away at age sixteen, it's not just the shape of their daily lives that is different as adults, it's everything: their families, their communities, their racial identities. Ten years later, one sister lives with her black daughter in the same southern town she once tried to escape. The other secretly passes for white, and her white husband knows nothing of her past. Still, even separated by so many miles and just as many lies, the fates of the twins remain intertwined. What will happen to the next generation, when their own daughters' story lines intersect?
Weaving together multiple strands and generations of this family, from the Deep South to California, from the 1950s to the 1990s, Brit Bennett produces a story that is at once a riveting, emotional family story and a brilliant exploration of the American history of passing. Looking well beyond issues of race, The Vanishing Half considers the lasting influence of the past as it shapes a person's decisions, desires, and expectations, and explores some of the multiple reasons and realms in which people sometimes feel pulled to live as something other than their origins.
Text and image taken from https://www.waterstones.com/book/the-vanishing-half/brit-bennett/9780349701479

September 2021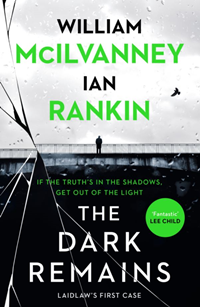 The Dark Remains by Ian Rankin & William McIlvanney
In this scorching crime hook-up, number one bestseller Ian Rankin and Scottish crime-writing legend William McIlvanney join forces for the first ever case of DI Laidlaw, Glasgow's original gritty detective.
Lawyer Bobby Carter did a lot of work for the wrong type of people. Now he's dead and it was no accident. Besides a distraught family and a heap of powerful friends, Carter's left behind his share of enemies. So, who dealt the fatal blow?
DC Jack Laidlaw's reputation precedes him. He's not a team player, but he's got a sixth sense for what's happening on the streets. His boss chalks the violence up to the usual rivalries, but is it that simple? As two Glasgow gangs go to war, Laidlaw needs to find out who got Carter before the whole city explodes.
William McIlvanney's Laidlaw books changed the face of crime fiction. When he died in 2015, he left half a handwritten manuscript of Laidlaw's first case. Now, Ian Rankin is back to finish what McIlvanney started. In The Dark Remains, these two iconic authors bring to life the criminal world of 1970s Glasgow, and Laidlaw's relentless quest for truth.
Text and image taken from https://canongate.co.uk/books/3755-the-dark-remains/
August 2021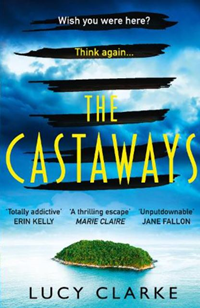 The Castaways by Lucy Clarke
If you're looking for a thriller this summer, Waterstones recommends this gripping read.
'A secret beach. A holiday of a lifetime. You wake on a beautiful, remote island. Sparkling blue seas, golden sunsets, barely a footprint in the sand. Yet this is no ordinary escape.
Next to the wreck of a plane, a stranger paces. Another sharpens a knife. Others watch from the shadows of a campfire - all with untold stories, and closely-guarded secrets. This is no ordinary holiday. This is no ordinary island. This is no ordinary beach read.
Gripping, twisty and full of sun-soaked atmosphere, The Castaways will whisk you far away to the island - and never let you go.'
Taken from:
https://www.waterstones.com/book/the-castaways/lucy-clarke/9780008340919
July 2021
Before The Storm by Alex Gray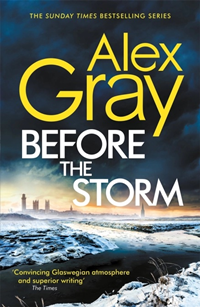 "Inspector Daniel Kohi of the Zimbabwean police force returns home one night to find his worst nightmare has been realised. His family dead, his house destroyed, and in fear for his life, he is forced to flee. Far away in Glasgow, DSI William Lorimer has his hands full. Christmas is approaching, the city is bustling, and whilst the homicide rate has been relatively low, something much darker is brewing. Counter-Terrorism have got wind of a plot to carry out an unspeakable atrocity on Christmas Eve. The investigation is complicated by a spate of local murders, and by the rumours that someone is passing information to criminal organisations from inside the police force. Soon Lorimer finds himself in desperate need of assistance. Then he meets an extraordinary man - a refugee from Zimbabwe whose investigative skills are a match for Lorimer's own."
Taken from:
https://www.hachette.co.uk/titles/alex-gray/before-the-storm/9780751579994/
June 2021
Alchemy and Rose by Sarah Maine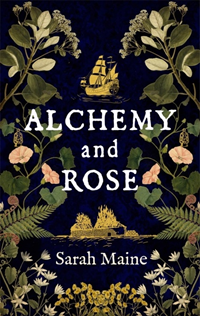 1866. Will Stewart is one of many who have left their old lives behind to seek their fortunes in New Zealand's last great gold rush. The conditions are hostile and the outlook bleak, but he must push on in his uncertain search for the elusive buried treasure.
Rose is about to arrive on the shores of South Island when a storm hits and her ship is wrecked. Just when all seems lost she is snatched from the jaws of death by Will, who risks his life to save her. Drawn together by circumstance, they stay together by choice and for a while it seems that their stars have finally aligned.
But after a terrible misunderstanding they are cruelly separated, and their new-found happiness is shattered. As Will chases Rose across oceans and continents, he must come to terms with the possibility that he might never see her again. And if he does, he will have to face the man who took her . . .
Text and image taken from:
https://www.hachette.co.uk/titles/sarah-maine/alchemy-and-rose/9781529385007/

May 2021
The Authenticity Project by Clare Pooley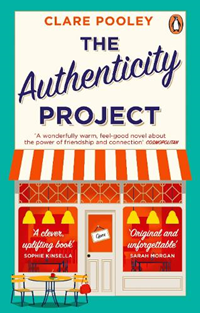 "Julian Jessop is tired of hiding the deep loneliness he feels. So he begins The Authenticity Project - a small green notebook containing the truth about his life.
Leaving the notebook on a table in his friendly neighbourhood cafe, Julian never expects Monica, the owner, to track him down after finding it. Or that she'll be inspired to write down her own story.
Little do they realize that such small acts of honesty hold the power to impact all those who discover the notebook and change their lives completely."
April 2021
The Burning Girls by C. J. Tudor: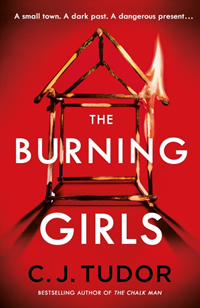 Welcome to Chapel Croft.
For Rev Jack Brooks and teenage daughter Flo it's supposed to be a fresh start. New job, new home. But, as Jack knows, the past isn't easily forgotten.
And in a close-knit community where the residents seem as proud as they are haunted by Chapel Croft's history, Jack must tread carefully. Ancient superstitions as well as a mistrust of outsiders will be hard to overcome.
Yet right away Jack has more frightening concerns.
Why is Flo plagued by visions of burning girls?
Who's sending them sinister, threatening messages?
And why did no one mention that the last vicar killed himself?
Chapel Croft's secrets lie deep and dark as the tomb. Jack wouldn't touch them if not for Flo - anything to protect Flo.
But the past is catching up with Chapel Croft - and with Jack. For old ghosts with scores to settle will never rest . . .
Taken from: https://www.penguin.co.uk/books/311/311444/the-burning-girls/9780241371305.html
March 2021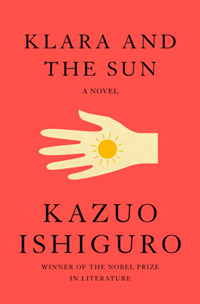 Klara and the Sun by Kazuo Ishiguro :

Klara and the Sun, the first novel by Kazuo Ishiguro since he was awarded the Nobel Prize in Literature, tells the story of Klara, an Artificial Friend with outstanding observational qualities, who, from her place in the store, watches carefully the behavior of those who come in to browse, and of those who pass on the street outside. She remains hopeful that a customer will soon choose her.
Klara and the Sun is a thrilling book that offers a look at our changing world through the eyes of an unforgettable narrator, and one that explores the fundamental question: what does it mean to love?
Taken from:
https://www.penguinrandomhouse.com/books/653825/klara-and-the-sun-by-kazuo-ishiguro/
February 2021
Here is the Beehive by Sarah Crossan:
'One of our most original writers. Sarah has almost created an entirely new form of writing in her novels that is hers and hers alone.' John Boyne
it happened, again and again and again and again and again. Together apart. In love in aching. Tangled unravelling.
Ana and Connor have been having an affair for three years. In hotel rooms and coffee shops, swiftly deleted texts and briefly snatched weekends, they have built a world with none but the two of them in it.
But then the unimaginable happens, and Ana finds herself alone, trapped inside her secret.
How can we lose someone the world never knew was ours? How do we grieve for something no one else can ever find out? In her desperate bid for answers, Ana seeks out the shadowy figure who has always stood just beyond her reach – Connor's wife Rebecca.
Peeling away the layers of two overlapping marriages, Here is the Beehive is a devastating excavation of risk, obsession and loss.
Text and image taken from:
https://fe.bolindadigital.com/wldcs_bol_fo/b2i/productDetail.html?productId=BLM_922711
January 2021
A Promised Land by Barack Obama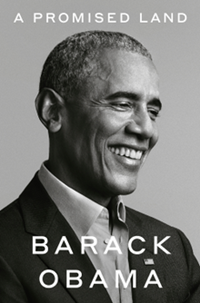 A riveting, deeply personal account of history in the making-from the president who inspired us to believe in the power of democracy.
In the stirring, highly anticipated first volume of his presidential memoirs, Barack Obama tells the story of his improbable odyssey from young man searching for his identity to leader of the free world, describing in strikingly personal detail both his political education and the landmark moments of the first term of his historic presidency-a time of dramatic transformation and turmoil.
Obama takes readers on a compelling journey from his earliest political aspirations to the pivotal Iowa caucus victory that demonstrated the power of grassroots activism to the watershed night of November 4, 2008, when he was elected 44th president of the United States, becoming the first African American to hold the nation's highest office.
A Promised Land is extraordinarily intimate and introspective-the story of one man's bet with history, the faith of a community organizer tested on the world stage. Obama is candid about the balancing act of running for office as a Black American, bearing the expectations of a generation buoyed by messages of "hope and change," and meeting the moral challenges of high-stakes decision-making. He is frank about the forces that opposed him at home and abroad, open about how living in the White House affected his wife and daughters, and unafraid to reveal self-doubt and disappointment. Yet he never wavers from his belief that inside the great, ongoing American experiment, progress is always possible.
This beautifully written and powerful book captures Barack Obama's conviction that democracy is not a gift from on high but something founded on empathy and common understanding and built together, day by day.
Taken from: https://www.waterstones.com/book/a-promised-land/barack-obama/9780241491515