Book of the Month
July 2021
Before The Storm by Alex Gray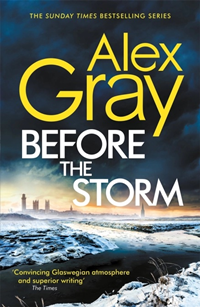 "Inspector Daniel Kohi of the Zimbabwean police force returns home one night to find his worst nightmare has been realised. His family dead, his house destroyed, and in fear for his life, he is forced to flee. Far away in Glasgow, DSI William Lorimer has his hands full. Christmas is approaching, the city is bustling, and whilst the homicide rate has been relatively low, something much darker is brewing. Counter-Terrorism have got wind of a plot to carry out an unspeakable atrocity on Christmas Eve. The investigation is complicated by a spate of local murders, and by the rumours that someone is passing information to criminal organisations from inside the police force. Soon Lorimer finds himself in desperate need of assistance. Then he meets an extraordinary man - a refugee from Zimbabwe whose investigative skills are a match for Lorimer's own."
Taken from:
https://www.hachette.co.uk/titles/alex-gray/before-the-storm/9780751579994/
June 2021
Alchemy and Rose by Sarah Maine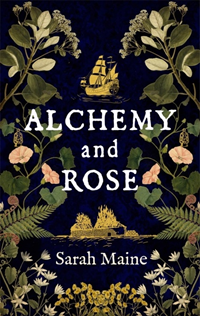 1866. Will Stewart is one of many who have left their old lives behind to seek their fortunes in New Zealand's last great gold rush. The conditions are hostile and the outlook bleak, but he must push on in his uncertain search for the elusive buried treasure.
Rose is about to arrive on the shores of South Island when a storm hits and her ship is wrecked. Just when all seems lost she is snatched from the jaws of death by Will, who risks his life to save her. Drawn together by circumstance, they stay together by choice and for a while it seems that their stars have finally aligned.
But after a terrible misunderstanding they are cruelly separated, and their new-found happiness is shattered. As Will chases Rose across oceans and continents, he must come to terms with the possibility that he might never see her again. And if he does, he will have to face the man who took her . . .
Text and image taken from:
https://www.hachette.co.uk/titles/sarah-maine/alchemy-and-rose/9781529385007/

May 2021
The Authenticity Project by Clare Pooley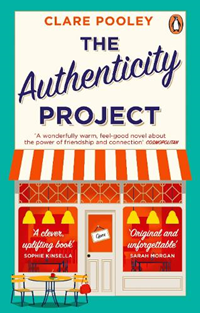 "Julian Jessop is tired of hiding the deep loneliness he feels. So he begins The Authenticity Project - a small green notebook containing the truth about his life.
Leaving the notebook on a table in his friendly neighbourhood cafe, Julian never expects Monica, the owner, to track him down after finding it. Or that she'll be inspired to write down her own story.
Little do they realize that such small acts of honesty hold the power to impact all those who discover the notebook and change their lives completely."
April 2021
The Burning Girls by C. J. Tudor: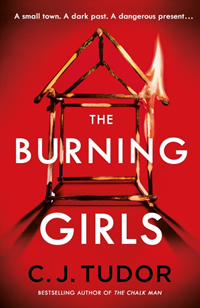 Welcome to Chapel Croft.
For Rev Jack Brooks and teenage daughter Flo it's supposed to be a fresh start. New job, new home. But, as Jack knows, the past isn't easily forgotten.
And in a close-knit community where the residents seem as proud as they are haunted by Chapel Croft's history, Jack must tread carefully. Ancient superstitions as well as a mistrust of outsiders will be hard to overcome.
Yet right away Jack has more frightening concerns.
Why is Flo plagued by visions of burning girls?
Who's sending them sinister, threatening messages?
And why did no one mention that the last vicar killed himself?
Chapel Croft's secrets lie deep and dark as the tomb. Jack wouldn't touch them if not for Flo - anything to protect Flo.
But the past is catching up with Chapel Croft - and with Jack. For old ghosts with scores to settle will never rest . . .
Taken from: https://www.penguin.co.uk/books/311/311444/the-burning-girls/9780241371305.html
March 2021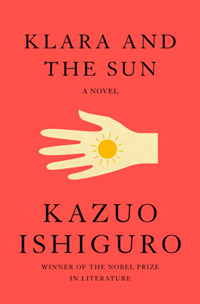 Klara and the Sun by Kazuo Ishiguro :

Klara and the Sun, the first novel by Kazuo Ishiguro since he was awarded the Nobel Prize in Literature, tells the story of Klara, an Artificial Friend with outstanding observational qualities, who, from her place in the store, watches carefully the behavior of those who come in to browse, and of those who pass on the street outside. She remains hopeful that a customer will soon choose her.
Klara and the Sun is a thrilling book that offers a look at our changing world through the eyes of an unforgettable narrator, and one that explores the fundamental question: what does it mean to love?
Taken from:
https://www.penguinrandomhouse.com/books/653825/klara-and-the-sun-by-kazuo-ishiguro/
February 2021
Here is the Beehive by Sarah Crossan:
'One of our most original writers. Sarah has almost created an entirely new form of writing in her novels that is hers and hers alone.' John Boyne
it happened, again and again and again and again and again. Together apart. In love in aching. Tangled unravelling.
Ana and Connor have been having an affair for three years. In hotel rooms and coffee shops, swiftly deleted texts and briefly snatched weekends, they have built a world with none but the two of them in it.
But then the unimaginable happens, and Ana finds herself alone, trapped inside her secret.
How can we lose someone the world never knew was ours? How do we grieve for something no one else can ever find out? In her desperate bid for answers, Ana seeks out the shadowy figure who has always stood just beyond her reach – Connor's wife Rebecca.
Peeling away the layers of two overlapping marriages, Here is the Beehive is a devastating excavation of risk, obsession and loss.
Text and image taken from:
https://fe.bolindadigital.com/wldcs_bol_fo/b2i/productDetail.html?productId=BLM_922711
January 2021
A Promised Land by Barack Obama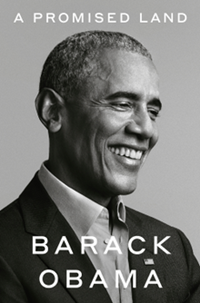 A riveting, deeply personal account of history in the making-from the president who inspired us to believe in the power of democracy.
In the stirring, highly anticipated first volume of his presidential memoirs, Barack Obama tells the story of his improbable odyssey from young man searching for his identity to leader of the free world, describing in strikingly personal detail both his political education and the landmark moments of the first term of his historic presidency-a time of dramatic transformation and turmoil.
Obama takes readers on a compelling journey from his earliest political aspirations to the pivotal Iowa caucus victory that demonstrated the power of grassroots activism to the watershed night of November 4, 2008, when he was elected 44th president of the United States, becoming the first African American to hold the nation's highest office.
A Promised Land is extraordinarily intimate and introspective-the story of one man's bet with history, the faith of a community organizer tested on the world stage. Obama is candid about the balancing act of running for office as a Black American, bearing the expectations of a generation buoyed by messages of "hope and change," and meeting the moral challenges of high-stakes decision-making. He is frank about the forces that opposed him at home and abroad, open about how living in the White House affected his wife and daughters, and unafraid to reveal self-doubt and disappointment. Yet he never wavers from his belief that inside the great, ongoing American experiment, progress is always possible.
This beautifully written and powerful book captures Barack Obama's conviction that democracy is not a gift from on high but something founded on empathy and common understanding and built together, day by day.
Taken from: https://www.waterstones.com/book/a-promised-land/barack-obama/9780241491515
December 2020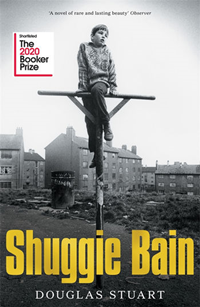 Shuggie Bain by Douglas Stuart
It is 1981. Glasgow is dying and good families must grift to survive. Agnes Bain has always expected more from life. She dreams of greater things: a house with its own front door and a life bought and paid for outright (like her perfect, but false, teeth). But Agnes is abandoned by her philandering husband, and soon she and her three children find themselves trapped in a decimated mining town. As she descends deeper into drink, the children try their best to save her, yet one by one they must abandon her to save themselves. It is her son Shuggie who holds out hope the longest.
Shuggie is different. Fastidious and fussy, he shares his mother's sense of snobbish propriety. The miners' children pick on him and adults condemn him as no' right. But Shuggie believes that if he tries his hardest, he can be normal like the other boys and help his mother escape this hopeless place.
Douglas Stuart's Shuggie Bain lays bare the ruthlessness of poverty, the limits of love, and the hollowness of pride. A counterpart to the privileged Thatcher-era London of Alan Hollinghurst's The Line of Beauty, it also recalls the work of Edouard Louis, Frank McCourt, and Hanya Yanagihara, a blistering debut by a brilliant writer with a powerful and important story to tell.
Winner of The Booker Prize 2020.
Taken from: https://www.waterstones.com/book/shuggie-bain/douglas-stuart/9781529019278
Shuggie Bain is available in book and eBook / eAudio format in our BorrowBox collection.
November 2020
Stories of Hope by Heather Morris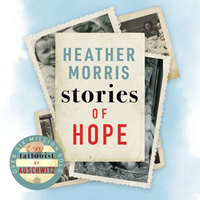 Deeply touching, humble and filled with wisdom, Stories of Hope is the non-fiction debut from the author of the internationally bestselling novels The Tattooist of Auschwitz and Cilka's Journey. Exploring the extremes of human behaviour, Morris's book is a reverent meditation on the importance of listening and the exceptional power of stories to heal and inspire.
The Tattooist of Auschwitz is one of the bestselling books of the 21st Century. Now, in this essential companion, Heather Morris presents an inspiring manual for life, with a series of tales of the remarkable people she has met, the incredible stories they have shared with her, and the lessons they hold for us all.
In Stories of Hope, Heather will explore her extraordinary talents as a listener - a skill she employed when she first met Lale Sokolov, the tattooist at Auschwitz-Birkenau and the inspiration for her bestselling novel. It was this ability that led Lale to entrust Heather with his story, which she told in her novel The Tattooist of Auschwitz and the bestselling follow up, Cilka's Journey.
Now Heather shares the story behind her inspirational writing journey and the defining experiences of her life, including her profound friendship with Lale, and explores how she learned to really listen to the stories people told her - skills she believes we can all learn. 'Stories are what connect us and remind us that hope is always possible.'
Taken from https://www.waterstones.com/book/stories-of-hope/heather-morris/9781786580474
Stories of Hope is available in eBook and eAudio format in our BorrowBox collection.
October 2020
The Midnight Library by Matt Haig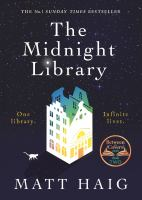 The touching, funny and heartwarming new novel from the Sunday Times bestselling author of How to Stop Time and Reasons to Stay Alive
"Would you have done anything different, if you had the chance to undo your regrets?"
Between life and death there is a library.
When Nora Seed finds herself in the Midnight Library, she has a chance to make things right. Up until now, her life has been full of misery and regret. She feels she has let everyone down, including herself. But things are about to change.
The books in the Midnight Library enable Nora to live as if she had done things differently. With the help of an old friend, she can now undo every one of her regrets as she tries to work out her perfect life. But things aren't always what she imagined they'd be, and soon her choices place the library and herself in extreme danger.
Before time runs out, she must answer the ultimate question: what is the best way to live?
Taken from https://canongate.co.uk/books/2471-the-midnight-library/
The Midnight Library is available in eBook and eAudio format in our BorrowBox collection.