Kilmacolm & Quarriers
This area shows the work of locality planning in Kilmacolm & Quarriers
There is much to celebrate across Inverclyde and across Kilmacolm & Quarriers. A range of partners are working together to better understand your communities priorities and to use your knowledge and experience to shape priorities for years to come.
As a community, this is a chance to celebrate but also an opportunity for you to get involved as we look ahead to the future. To get involved:
Join our community event to celebrate the present and shape the future at Kilmacolm Community Centre on Tuesday 27 August between 3pm and 7pm. You can register via https://kilmacolm-quarriers-locality.eventbrite.co.uk , or indeed, just drop in on the day.
And
Have your say on local debates or create one of your own and encourage discussions about local issues or areas of Inverclyde you are interested in on www.ourinverclyde.com
Please also feel free to display and share the attached poster to encourage community engagement with the events.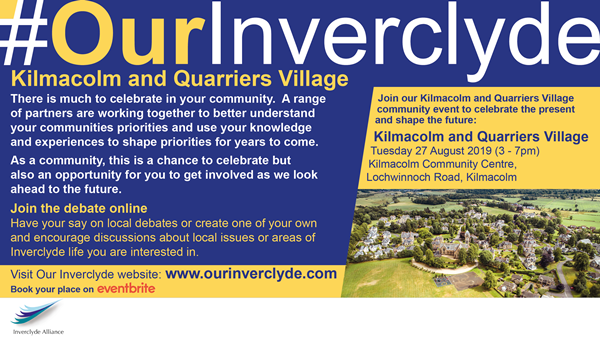 Page last updated: 23 August 2019