2 year old places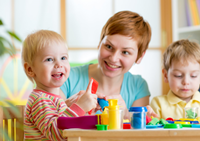 Funded Early Learning and Childcare for Eligible 2 Year Olds
If you are a parent of a two-year-old child and are in receipt of certain benefits you could qualify for Funded Early Learning and Childcare.
Do I meet the criteria?
Children will be allocated places according to the criteria listed below. (N.B. eligibility criteria are subject to change in line with any amendments to the Children and Young People (Scotland) Act 2014):
Eligibility Criteria for 2 Year Olds
Your child can access 1140 hours of funded ELC at the eligible intake date after their 2nd birthday, if you meet one or more of the following criteria:
Income Support
Job Seekers Allowance (income based)
Any income related element of Employment and Support Allowance
Incapacity or Severe Disablement Allowance
State Pension Credit
Child Tax Credit (CTC), but not Working Tax Credit and your income is less than £16,105
Child Tax Credit and Working Tax Credit and your income is under £7,320
Support under Part V1 of the Immigration and Asylum Act 1999
Universal Credit when your household take-home pay, is £610 or less.
Or if the child is age 2 or over and is or, since they turned 2 has been (in terms of legal status):
'Looked After' by a local council
The subject of a 'Kinship Care Order'; or
The subject of a 'Parent Appointed Guardianship Order'; or
Has a care experienced parent - (Parent has been in residential care, foster care, kinship care, or has been looked-after at home with a supervision requirement at any stage in their life)
How do I apply?
You can apply one month before your child turns 2 years. Application forms are available at any Inverclyde nursery offering funded ELC 2 year old places. Please contact your local nursery to complete an application form or contact Education Services on 01475 712892 to find out which establishments offer funded ELC 2 year old places.
What happens next?
Your application will be sent to Education Headquarters to be processed:
If your application is declined the establishment you applied to will inform you of the decision.
If you application for a 2 year place is approved a letter will be sent to you informing you of your establishment allocation and model of attendance.
*This allocation is for your child's 2-3 years place only – this allocation will not automatically transfer when your child is eligible for a 3 - 5 year place. You will be asked to complete a 3-5 year application form for your child's funded 3 year old place.
When can my child start?
Inverclyde Council offers 1140 hours of free Early Learning and Childcare from the month after the child's 2nd birthday for eligible 2-year olds in line with Scottish Government criteria
ADMISSIONS TIMELINE
| | |
| --- | --- |
| Birthday Dates | Intake – first available Monday in the month |
| 1st March – 31st August | August / September |
| 1st September – 30th September | October |
| 1st October – 31st October | November |
| 1st November – 30th November | December |
| 1st December – 31st December | January |
| 1st January – 31st January | February |
| 1st February – last day February | March |
What if I do not meet the criteria?
Inverclyde Council does not have a duty to provide ELC places for all children under 3. If your child does meet the criteria as outlined above he or she may be eligible for a referred place or a self-funded private place.
All places are discretionary with the exception of children currently on the child protection register.
Referred Place
If you think you would be entitled to a place you should discuss this with a professional who knows your child / family eg Health Visitor, Social Worker.
Referrals from appropriate professionals will be considered at the Under3's panel which meets throughout the year. The panel is made up of professionals from Education, Health, Social Work and Barnardo's. If your child is granted a place at the Under 3's Panel you will be notified by letter from Education Services
Private Places
Some nurseries have a small number of private places available. Please contact the nursery in your local area for more information on availability and charges for this service.
If you require any further information, or to find out if your child is eligible for a funded Early Learning and Childcare Place please contact Inverclyde Council's Early Years Service on 01475717171.