3 - 5 year old places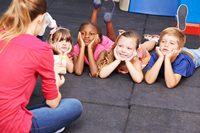 How to apply for an Early Learning and Childcare place
To apply for a Early Learning and Childcare place, you should complete an application form, around the time your child turns two years old or before 31st January each year. The nursery application form is available from any Inverclyde Council nursery school/class or partner establishment.
All children who are eligible for a nursery place are asked to list, in order of priority, up to three nursery choices. Only one application form must be submitted. Although children are guaranteed a place within either a council establishment or within a partnership establishment we cannot guarantee your choices or your pattern of attendance.

Once completed forms should be submitted to your first choice nursery. Proof of your child's date of birth in the form of their birth certificate and address must be produced when submitting your application. Forms submitted without this evidence will not be accepted at any establishment.
All applications must be presented and an admission panel before any place will be allocated.
When will my child become eligible for a nursery place?
Your child's eligibility for pre-school education depends on their birthday:
Birthday Dates

Intake

Intake Month

Admission Timeline

1st March – 31st August

1

August

At start of term in August and before last day of August

1st September – 31st December

2

January

At start of term in January and before the 3rd week of January

1st January – Last day in February

3

April

After Easter term before 1st May*

*This may change depending on when Easter term falls
Choosing a nursery
Arrange a nursery visit
You may wish to visit a few nurseries before making a final decision on where to apply to. You should phone in advance to make an appointment, as this will ensure staff have time to talk to you and answer your questions.
If you require any further information, or to find out if your child is eligible for a funded Early Learning and Childcare Place please contact Inverclyde Council's Early Years Service on 01475717171 or visit the Scottish Family Information Website (see the External Links on this page)
Page last updated: 29 October 2019