Part IIA - Contaminated Land
Part IIA of the Environmental Protection Act 1990 places a duty on each local authority to inspect their area for the purposes of identifying, investigating and assessing potentially contaminated land.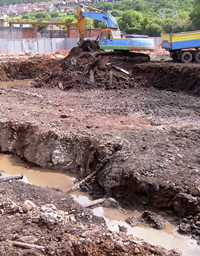 If such land is determined to be Contaminated Land, the local authority must then secure its remediation.
In the course of fulfilling these duties, Inverclyde Council shall endeavour to bring the polluters or appropriate persons to bear the responsibility and remediation cost.
Inverclyde Council is statutorily required to produce an inspection strategy for dealing with contaminated land, which was published in 2001. A revision is contained within our Revised Strategy for the Management of Land Contaminated 2010.
A public register of notices served on sites determined to be Contaminated Land will be kept up-to-date and available at this webpage.
There are currently no determined Contaminated Land sites within Inverclyde.