Abandoned vehicles
This guide aims to help combat the problem of abandoned vehicles by helping you decide if a vehicle has been abandoned, by informing you of the law and of what you can do to get it removed.
How can I tell whether or not a vehicle has been abandoned?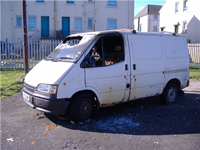 The following should help you make a judgement:
Are any of the tyres flat or have any of the wheels been removed?
Is there excess litter or weed growth under the vehicle, indicating that it has not moved for some time?
Is the windscreen or any of the windows broken?
Is there any mould on either the inside or outside of the vehicle?
Does the vehicle contain items of waste e.g. tyres, old newspapers, general rubbish?
Does the vehicle have number plates?
Does the vehicle have wires hanging from the dashboard?
Has the vehicle been vandalised?
Has a vehicle that you and your neighbours have never seen before suddenly appeared in your road and no-one is claiming ownership?
Abandoned Vehicles and the Law
Local authorities have a duty under Section 3 of the Refuse Disposal (Amenity) Act 1978, to remove a vehicle which is abandoned on public land in their area.
Abandoned vehicles that have some value can be removed immediately and the registered owner given 7 days to respond before the car can be destroyed. For vehicles that the local authority considers to have no value – the statutory notice period is 24 hours.
If a vehicle is abandoned on private land the local authority can serve the owner with a 15 day notice, for which they have 15 days to object to the vehicle being taken away.
Local Authorities also have the power to recover costs of removal, storage and disposal from the person responsible for abandoning the vehicle.
The police have powers under the Removal and Disposal of Vehicle Regulations 1986 to remove any vehicle that is in breach of local traffic regulations, causing an obstruction, likely to cause a danger, broken down or abandoned without lawful authority. Any car that is considered to be a dangerous wreck and where a notice has been issued, can be removed immediately.
What should I do if I spot an abandoned vehicle?
Never enter or even touch an abandoned vehicle - It may have been used in a crime and need to be investigated by the police. It may contain hazardous waste, or pose a health or fire risk.
Never approach a burning or burnt out vehicle - Burnt paint, rubber and other materials may be toxic or corrosive and harmful. If a vehicle is on fire call the fire service immediately.
How do I report an Abandoned Vehicle?
You can report the vehicle to the Council by completing an on-line report form (via Related link at on this page) or by phoning (01475) 714750. Alternatively, you can report directly to Police Scotland by phoning 101 (choose Option 4).