Port Glasgow Bulb Show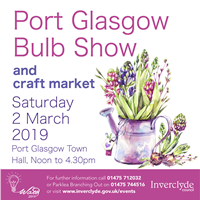 Come along on Sat 2nd March, to the Port Glasgow town hall for this year's bulb show.
You can enter your Spring Bulbs, crafts and art work into the various categories. There is also a baking category for all you budding Mary Berrys.
Entry forms and categories, together with entry labels can be downloaded from the left hand side.
This year we are introducing a new craft market, gifts, crafts, bakers and chocolate makers.
.
Page last updated: 28 January 2019