Live literature events - your chance to quiz top authors
Aspiring authors and fiction fans get the chance to put their favourite writers on the spot with Inverclyde Council's 'A Chat With…' series of free, Live Literature events at local libraries.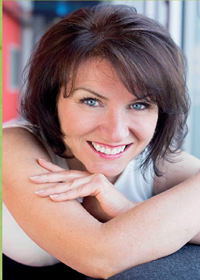 The series kicks off on Thursday 30 May at Port Glasgow Library from 2pm until 3pm, with a chat with acclaimed, Scottish writer, Maggie Craig. Maggie writes historical fiction and non-fiction. Her work includes: Damn' Rebel Bitches: the Women of the '45 and When the Clyde Ran Red: a Social History of Red Clydeside.
Councillor Jim Clocherty, Convener of Inverclyde Council's Education & Communities Committee, said, "The A Chat With… series of events gives local people the chance to meet their literary heroes and learn about the process of writing for pleasure and for profit.
"Sometimes people have burning questions about characters or how an author works out plot twists. We're giving local people the chance to get answers to all their questions and to meet five top authors. As an added benefit, all the events are free."
The event on Thursday is the first of six which run until 21 October.
The other events in the series include:
A chat with Keith Charters – this is a drop-in event and no ticket is needed
Saturday 15 June, Greenock Central Library, 10am until 11am
Keith is the author of the hilarious Lee's adventure series. He also owns Strident Publishing. Keith will be talking about all things space and writing. He's happy to talk with children and adults. Suitable for anyone aged 8 and over.
A chat with Daniel Gray
Thursday 20 June, Inverkip and Wemyss Bay Library, 6pm until 7pm
Daniel has written eight books on topics ranging from history and politics to travel and football. Greenock and Inverclyde feature in two of them. He has also worked in TV as a history presenter for stv and as a researcher/writer for the BBC.
A chat with Theresa Talbot
Thursday 25 July, Kilmacolm Library, 2pm until 3pm
Theresa Talbot hosts the Beechgrove Potting Shed. She's probably best known as the voice of traffic and travel on BBC Radio Scotland. Her chat is one for budding gardeners and authors alike. Theresa is an accomplished freelance writer, journalist, radio presenter and author. Her back catalogue includes: The Quiet Ones, Keep Her Silent and The Lost Children.
A chat with Theresa Talbot
Friday 13 September, South West Library, 10am until 12noon
Theresa Talbot returns with a creative writing workshop. The workshop is designed to inspire and encourage Inverclyde's aspiring authors.
A chat with Helen Sedgewick
Monday 21 October, South West Library, 3pm until 4pm
Helen Sedgewick's debut novel, The Comet Seekers, was inspired by astronomy and her background as a scientist. Helen will be giving a reading from her book and then answering questions.
Date/Time: 21/10/2019 15:00 - 16:00
Contact
Tickets for the Live Literature events can be reserved in person at any of Inverclyde's libraries, by phone on 01475 712323 or online by emailing library.central@inverclyde.gov.uk
Tickets are available one month before each event.
British Sign Language interpreters are available for these events. Anyone who needs an interpreter should call 01475 712323 at least 14 days before the event.
Pricing:
All the events are FREE!
Page last updated: 23 May 2019