Debt Arrangement Scheme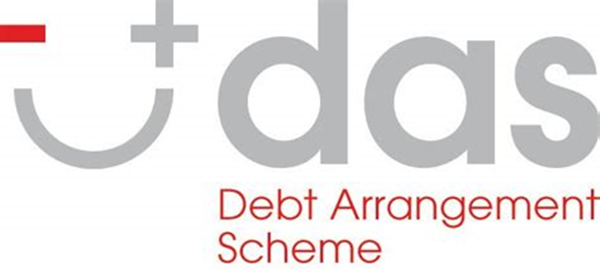 The Debt Arrangement Scheme (DAS) is a Scottish Government scheme that legally allows you to repay your debts.
It is ideal for people who can no longer make their monthly contractual payments, but who could repay their debts, in full, if they were allowed extra time and were able to make reduced monthly payments.
Benefits of the Debt Arrangement Scheme
The Scheme has many benefits, once approved it automatically:
freezes all interest, fees, penalities and charges;
only requires the participant to make one monthly payment, that is then distributed to all creditors via a payment distributor;
it prevents creditors taking any further enforcement action against them, such as arresting their wages or freezing their bank account;
the amount you pay each month can be adjusted if your circumstances change; and
it is free if you apply via Inverclyde Council's Advice Service.
What debts can be included into a Debt Payment Programme?
Most debts can be included into Debt Payment Programmes (DPPs) under the Debt Arrangment Scheme, this includes rent and council tax arrears, store and credit cards, banks loans and catalogue debts.
How much do you have to pay?
How much you have to pay depends on your circumstances, your money adviser will discuss this with you when they draft your income and expenditure budget. You do not need to offer all of your available income when making a payment proposal to your creditors, but it is worth remembering the less you pay, the longer it will take you to repay your debts.
It is also worthwhile remembering your creditors can object to your proposal if they do not think it is fair and reasonable. However if the DAS Administrator, who is a civil servant, believes your offers are fair and reasonable then these objections can be set aside.
How to apply?
The application process has 5 steps:
You have to speak to an approved money adviser to assess your circumstances and make sure this is the correct Debt option for you;
We would then confirm your debt levels with your creditors;
A proposal would then be submitted to a DAS Administrator who sends your offers to the creditors. They get 21 days to respond;
If your creditors do not respond to your proposal your application is automatically approved; However if any object it goes to the fair and reasonable test for the DAS Administrator to decide if it should be approved;
Finally, once your case is approved you will begin making payments through your payment distributor.
For more information on a DAS and how to apply why not chat with our online adviser or call 01475 715 299.