More information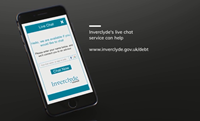 Money advice
Inverclyde Council money advice services helped with over £3.8 million of problem debt in 2017-18.
This included credit card debt, benefit overpayments, mortgage and rent arrears.
One of the most common types of debt that money advisers assist with is council tax arrears.
The money advice team is part of Inverclyde Council and is completely free, confidential and aims to provide clients with best advice in all cases.
What services can Inverclyde Council money advice offer?
The service offers a full range of services to all its clients, including access to all formal and informal debt remedies.
These can range from negotiating repayment plans for service users, to assisting them in applying to the Scottish Government's 'debt arrangement scheme'. The service can also advise and assist clients to apply for their own bankruptcy where necessary.
In relation to consumer credit debt and bankruptcy, the money advisers can also offer court representation in Greenock Sheriff Court, where appropriate. The service also works closely with solicitors based in Greenock's Legal Service Agency when clients are facing eviction or repossession for rent or mortgage arrears.
Types of debt Inverclyde Council money advisers can help with:
Business debts
Council tax and water/sewage arrears
Credit/debit/store cards and catalogues
Gambling debts
Court fine debts
Benefit overpayments
Rent/mortgage arrears
Utility bill debts
Pay day loans
Student loans
Hire purchase and conditional sale
Bank loans and overdrafts
Friends and family debt