Work Starts on new Multi-Million Pound School
Wednesday 12 July 2017
Work has begun work on Inverclyde Council's new £9.2 million St Ninian's Primary School in Gourock.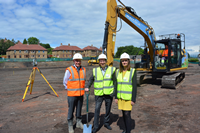 It is the latest project in the Council's impressive £270 million investment that will see every child in a new or refurbished school by 2020.
The new St Ninian's is to be built on the blaes gravel pitches at the current school site and the existing building will be demolished once the work is complete.
Education Convener Councillor Jim Clocherty said: "This is another significant milestone in the Council's transformation of our school estate. We have come such a long way in the past 10 years and despite the deepest economic downturn in generations we have still managed to deliver a £270 million investment towards Inverclyde's future."
The new building will have 13 classrooms, a gym, dining hall, music room and a library over its two stories. Children will be dropped off at a dedicated lay-by with space for three buses and pedestrian access will be from Staffa Street, Drumshantie Road and Kirn Drive.
Glasgow-based CCG (Scotland) Ltd has been awarded the contract. The company has extensive experience in the education sector delivering five projects in the last two years including three new primary schools.
Alastair Wylie, Chairman and Chief Executive said: "The rebuild of St Ninian's Primary School is a vital project which will bring tremendous benefits to the learning and educational opportunities for young people in Gourock.
"The new school is being constructed within the existing St Ninian's Primary School area and our construction approach will seek to minimise disruption to staff and ensure pupils can remain within their current school until the new building is complete.
"We are proud to be working with Inverclyde Council and Hub West Scotland on the new St Ninian's Primary School and we are confident that, upon completion, the modern facilities will contribute greatly to the wider regeneration of Inverclyde and beyond."
The project is being delivered in partnership with hubWest Scotland. Angeline Robertson, Partnership Director said: "We are delivering four schools in partnership with Inverclyde Council. St Ninian's follows the design principles of St Patrick's primary school and will be completed by main contractor CCG in summer 2018. We are delighted that the partnership is producing such high quality facilities for the communities in Inverclyde."
Councillor Clocherty added: "We are continuing to show our commitment to education in Inverclyde and it is already paying off. The quality of our school buildings matches the quality of education being delivered by our teachers and school staff. That can be clearly seen when it comes to exam success and young people going on to further education, work or training. Schools are also the first thing parents research when they consider moving to an area and Inverclyde is building a great and deserved reputation as a great place to live, work and raise a family."
Photograph: Alastair Wylie, Councillor Clocherty and Angeline Robertson.
Page last updated: 12 July 2017