Election Preparations Underway
Friday 17 March 2017
The build-up to the local government elections in Inverclyde has begun with preparations well underway for the poll on Thursday 4 May.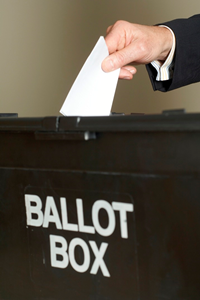 Polling cards are being sent out to registered voters and will begin to arrive over the next few days.
Nomination packs for potential councillors are also now available for collection from the Municipal Buildings in Greenock.
Returning Officer and Inverclyde Council Chief Executive Aubrey Fawcett said: "It is a huge logistical process to organise and administer the election but we have been preparing for it for some time. The important message to get across at this stage is to ask people to make sure they are registered to vote and to carefully read their polling card when it arrives. Following the Local Government Boundary Commission's changes to both the number of wards and ward boundaries there have been a variety of necessary changes to polling places and polling district boundaries within the Inverclyde Council area. Please read your polling card and make sure you know where to go and vote on 4 May."
Twenty-two councillors will be elected in seven wards across Inverclyde to serve for the next five years.
For the first time in a Scottish local government election anyone who is aged 16 years or over on the day of the poll is allowed to vote providing they have registered by 5pm on Monday 17 April 2017.
Nominations for those who wish to stand for election to the Inverclyde Council must be received no later than 4pm on Wednesday 29 March 2017.
Registering to vote is easy and only takes a few minutes online. Follow the links on this page.
Page last updated: 17 March 2017