Tackling Offending in Inverclyde
Friday 17 March 2017
A new local approach to reduce re-offending in Inverclyde has been approved by Inverclyde Integrated Joint Board – the body which oversees health and social care.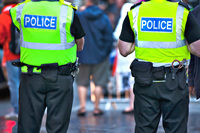 The Community Justice Outcomes Improvement Plan 2017-2022 is being introduced to prevent and reduce further offending and to support people to live positive lives in their local community.
The new model for community justice is underpinned by the Community Justice (Scotland) Act 2016 and places community justice at a local level where planning and key decisions can be made from a local perspective.
Community Justice can be defined as the collection of agencies and services that work together to support, manage and supervise people who have committed offences, from the point of arrest, through prosecution and penalty until they are reintegrated into the community.
A new body, Community Justice Scotland, will be established to work closely with statutory Community Justice Partners, the third sector and a range of other parties to provide support and leadership for community justice.
Community Justice Scotland will bring enhanced opportunities for innovation through the establishment of a Hub for the promotion of learning and development and to support the sharing of best practice. It will also provide assurance to Scottish Ministers and Local Government leaders on the delivery of improved outcomes for community justice.
The Community Justice Outcomes Improvement Plan 2017-2022 will now be submitted to the Scottish Government for approval.
Inverclyde Community Justice Partnership includes the following statutory partners:
• Inverclyde Health & Social Care Partnership and Inverclyde Integrated Joint Board
• Inverclyde Council
• NHS Greater Glasgow & Clyde
• Crown Office & Procurator Fiscal Service
• Scottish Prison Service
• Scottish Fire and Rescue Service
• Police Scotland
• Scottish Courts & Tribunal Service
• Skills Development Scotland
It also includes the following third sector organisations:
• Action for Children
• Turning Point Scotland
• CVS Inverclyde
Page last updated: 17 March 2017